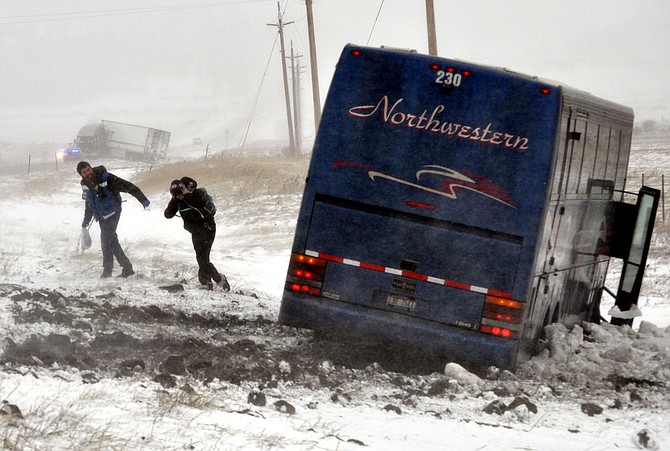 Photo by David Rauzi
A Syringa Ambulance EMT assists a passenger up the slippery snow-covered slope along U.S. Highway 95 where a Northwestern charter bus was blown off the road Saturday morning, Jan. 16. One minor injury was reported.
GRANGEVILLE — UPDATE, Saturday, Jan. 16 - Multiple accidents, some with minor injuries, were reported in and around the White Bird grade south of Grangeville this morning.
Several emergency service agencies responded to a semi-truck jackknife accident north of Lake Road on U.S. Highway 95 that partially blocked the southbound lane. Diesel was reported spilled from the truck fuel tanks.
As Idaho County and Idaho State Police officers were addressing this accident, a southbound Northwestern charter bus blew off the highway about a quarter-mile north of the truck accident. Along with Syringa Ambulance, a Syringa Extrication crew was dispatched to remove snow and dirt blocking the bus door to allow the driver and four passengers to exit.
One woman reported a minor knee bruise; all individuals were transported to Syringa Hospital.
The Idaho County Sheriff's Office reports two crashes were reported near this location earlier, one of which involved a pickup truck and trailer blown over in the winds. Both the driver and passenger were transported to Syringa Hospital where they were treated and released.
Along with ICSO and ISP, a USFS Law Enforcement Officer was on scene assisting with traffic control. The Grangeville Rural Fire Department responded with a vehicle and several personnel to address the diesel spill.
Gusting winds, periodic whiteout conditions due to blowing snow, and a slippery road surface have been problems emergency personnel have been dealing with through the morning crashes.
---
More on these incidents in Wednesday's Free Press.