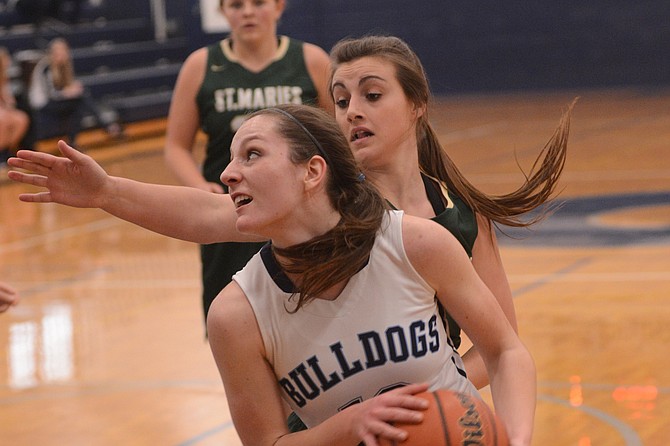 Photo by Andrew Ottoson
Hailey Sullivan scored 20 points and powered Grangeville past St. Maries 55-53. The GHS victory puts the Bulldogs atop the Central Idaho League standings.
Boys basketball schedule (JV game start times)
Prairie 70, Potlatch 40
Troy 61, Kamiah 52
Summit 58, Highland 38
Salmon River at Council
St. Maries 55, Grangeville 45
Girls basketball schedule (JV game start times)
Prairie 66, Potlatch 26
Council 53, Salmon River 41
Grangeville 55, St. Maries 53
(Check back later for results. To report a score, text 208-507-0675, Facebook us, or e-mail us. Complete score sheets received by 10 p.m. will be written up tonight.)
WHERE WE'LL BE
GRANGEVILLE - A varsity double-header will decide leadership of the Central Idaho League in both the boys and girls standings. On the girls side, both the Bulldogs and the Lumberjacks most recently played Orofino, with Grangeville beating the Maniacs 51-37 on Tuesday and St. Maries beating the Maniacs 57-37 on Jan. 9. On the boys side, the Lumberjacks beat Orofino 53-37 on Jan. 9 and the Bulldogs beat Orofino 58-44 on Thursday.
"We're right on top of the league standings, but it'll be tough," GHB boys coach Kelcey Edwards said of the looming match-up with St. Maries after his team's Orofino win. "They have some decent guards and functional posts, but we should have an advantage."
(GHS has announced Bulldogs fans will get free admission on Saturday.)
AROUND THE LEAGUES
In Cottonwood, a Potlatch-Prairie double header pits the Whitepine League's second place boys team against the Loggers, who are still looking for their first league win. The Prairie girls are running in second place on their side of the WPL standings, while the Potlatch girls are in fifth with losses including a 73-22 December rout at Prairie's hands.
In Kamiah, a chance for an upper-half finish is at stake in a showdown between the sixth place Troy boys and the Kubs, who beat fourth place CV 55-39 on Thursday. A win would be Kamiah's third in league play, which would would jump the Kubs over the Rams in the standings.
At Council, a Savages-Lumberjacks double-header will pit the Long Pin Conference's top girls teams against each other. The Salmon River boys are 1-1 in the league and facing the Long Pin's only unbeaten. (The Council boys are 10-3 overall, but 3-0 in league play.) The Salmon River girls took sole possession of the league lead by handing Council a loss on Tuesday, 69-65.
At Craigmont, Summit will put a 4-0 Whitepine (Division II) league record on the line against a Highland team the Patriots have not yet played. Highland's two league losses have come against Deary (50-48) and Kendrick (64-45). Summit has yet to play Kendrick, but beat Deary 65-50 on Thursday.
MORE TO SEE
In wrestling action at Wendell, four locals reached the finals.
Photo Gallery
BASKETBALL: Grangeville vs. St. Maries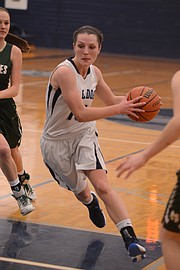 RESULTS
Grangeville girls edge St. Maries
GRANGEVILLE - Behind Hailey Sullivan's 20 points and Paige Lindsley's 14, the GHS girls overcame a six-point deficit and defeated St. Maries 55-53.
"With about six minutes left, I looked at my assistants and said 'This is a fun game," Grangeville head coach Larson Anderson said. "It was very well-played by both teams, and just the first of about four tough battles we'll probably have."
"I think we opened their eyes," Anderson added. "I don't think they thought we'd be that good."
Down 46-40 late in the third, Grangeville closed to within four with Lindsley's free throws and cut it to one, 46-45, when McKenzie Kennedy opened the fourth with a trey.
"Paige hit some big shots in the second half," Anderson said. "Their full-court press did give us some trouble, but when we broke it our execution was very good. All in all defensively, we played good team defense, but we may change things up against Auer in the future."
He was referring to St. Maries standout Kelsey Auer, who tallied 19 for the Lumberjacks.
As the game tightened up late in the fourth quarter, St. Maries answered, but Lindsley swished a three to knot it at 48-48. St. Maries broke the tie with a foul shot, but Lindsley struck again with a jump shot in transition. St. Maries answered that one with a long two, but Lindsley hit a triple from left wing to put GHS ahead to stay, 53-51.
Anderson interrupted a broken play with a timeout, keeping possession with the Bulldogs with 2:41 left -- and a minute later, GHS switched to a "four corners" stall.
"We hadn't worked on that since before Christmas," Anderson said. "But the seniors -- all the players, really, because we have underclassmen in there, too -- knew what to do and did it."
The result was a bleed-out of nearly a minute of clock time ending with a sharp pass from Kennedy to Rachel Kelley for a layup. St. Maries got two points back with free throws with about 45 seconds remaining, but came no closer.
Grangeville will visit St. Maries next Saturday, and will host Kamiah Tuesday.
"If we can win on their home court, that's a back-breaker for them," Anderson said. "We felt confident we played good basketball against Prairie, Colton, Moscow...those are teams we lost to, but those were important games for us. The lineup we had on the floor tonight is the lineup we'll have the rest of the season, unless we have more injuries. We're still not 100 percent healthy, but I'm excited about the way this group executes. Everyone is unselfish, but they're all also willing to take big shots."
Of Sullivan, he added: "As team captain and a leader she did a tremendous job handling the pressure and keeping the game under control. Point guards are huge in a game like that."
St. Maries stymies GHS boys
GRANGEVILLE - When the Bulldog boys ran their attack through him, Dillon Alder was their best weapon, scoring 19 points on a mix of post-ups, jump shots and put-backs on a night GHS as a team had trouble finding the range. Though both teams shot about 38 percent from the field, St. Maries used a slew of extra chances -- primarily off of turnovers -- to tilt the balance in their favor, 55-45. The Lumberjacks also outscored the Bulldogs by five at the foul line.
Yet despite having to slog through a 2-2-1 press after every miss, Grangeville rallied from down 12 at halftime (27-15) to within one point. After Luke Stokes scored slashing from the top of the arc to the right block with a powerful dribble-drive, St. Maries bricked two free throws and, at Grangeville's offensive end, opened the door for a layup by Alder off an inbounds set. His layup cut it to 40-39, and, after St. Maries hit a pair of free throws, Alder rebounded a three-point miss and scored a jumper to keep it within 42-41.
Then disaster struck.
"We scored 18 in the third quarter to make it close," GHS coach Kelcey Edwards said. "We just had two or three untimely turnovers -- and they were run-out turnovers. Our posts finished strong, but we didn't have them involved a lot early on. St. Maries kept us out of our offense. We broke their press well, but we we weren't disciplined enough to get into our regular offense."
Grangeville made two early threes, but thereafter went 1-for-18 from the arc.
The Bulldogs will play at Colton Tuesday and play at St. Maries next Saturday.
Wassmuth, Owens, Morrow post Ws at Wendell
WENDELL - Four locals reached the finals. Placing first were Grangeville's Shaydn Wassmuth (220), Clearwater Valley's Keiran Owens (285), and CV's Carson Morrow (152). CV's Ian Anderson (160) took second.
PREVIOUSLY
Details on Friday's games are here.
NEXT
Details on Monday's games are here.