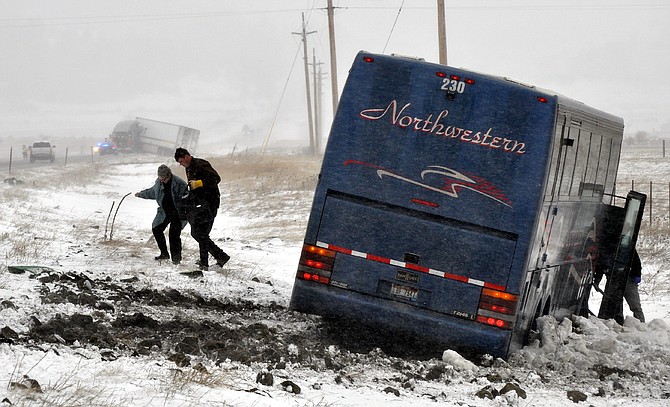 Photo by David Rauzi
A member of the Grangeville Rural Fire Department helps a bus passenger up the slippery slope at last Saturday's slideoff accident south of town on U.S. Highway 95. High winds and slick conditions contributed to four accidents that Jan. 16 morning.
GRANGEVILLE — High winds coupled with a snow-covered highway played havoc with traffic south of Grangeville last Saturday morning, resulting in a jackknifed semitruck that partially blocked traffic and a commercial bus sliding into the ditch.
One minor injury was reported on the Northwestern Trailways charter bus to a woman who bumped her knee, aggravating a previous injury. She, along with three other passengers and the driver were transported to Syringa Hospital for evaluation and to warm up. No injuries were reported in the truck accident.
The National Weather Service reported a moist storm event moved across White Bird Hill around 9 a.m. last Saturday, Jan. 16, with high winds, along with wet, heavy snow that resulted in fog and visibility down to a quarter-mile. Temperature in the area was around 39 degrees with a 29-degree wind chill.
Around this time, the Idaho County Sheriff's Office reported a pickup truck and trailer were blown over at milepost 234 on the north side of the White Bird grade. The unidentified driver and passenger reported minor injuries and were transported to Syringa Hospital for treatment and released.
A mile north, a passerby reported at 10:59 a.m. a Swift semitruck and trailer had jackknifed, blocking the southbound lane, during which a diesel tank had been punctured, necessitating a hazmat response by Grangeville Rural Fire Department (GRFD).
"I was on scene," said ICSO Deputy Kevin Brown, at the truck accident, "and I turned around, and saw it [the charter bus] go off."
On the snow-covered roadway about a quarter-mile south of the semi accident, the southbound bus was caught in the wind and blown off the road and into the ditch. Syringa Ambulance Extrication was dispatched as the door had been blocked closed by snow and dirt.
"Our biggest concern here," he said, in extricating bus occupants promptly, "was the bus tipping over in the wind."
In the semi accident, less than 50 gallons of diesel was spilled. GRFD Chief Dan Tackett explained the spill was difficult to access, partially due to landing gear caught up in the tank, along with the way the trailer was positioned it would be dangerous for crews to be around in the event it rolled. Two trucks and four personnel were on scene, monitoring the situation in case the fuel ignited, with additional personnel on standby at the Grangeville station.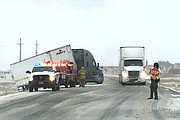 Along with ICSO, Idaho State Police and USFS Law Enforcement personnel were at the dual accident scene assisting with investigation and traffic control. Syringa Ambulance provided medical assistance and victim transport.