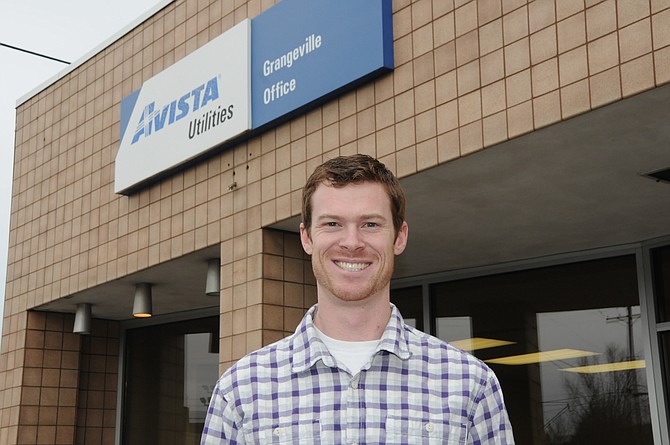 Photo by Lorie Palmer
Jeff Schwendener is the new Grangeville District Manager for Avista Corporation. He is seen here in front of the 201 E. Main Street office.
GRANGEVILLE — Avista's Grangeville office has a new face. The corporation welcomed new district manager Jeff Schwendener the first of the month.
"I'm excited to be here and have been settling in," Schwendener said from the 201 East Main Street office.
Schwendener (pronounced "Schwinn-dinner") grew up in Southern Oregon, Medford, and went on to attend Oregon State University in Corvallis where he studied exercise sports science.
He lived and worked in Oregon then Spokane and was a journeyman gas main fitter for Avista before moving into a leadership role.
"My dad worked for Washington Water Power [before it became Avista] and I grew up around it and realized the company was a great place to grow in a career," he said.
Schwendener's job consists of making sure the local crew has what it needs to provide the best service to Avista customers, including vehicles and other equipment, as well as coordinating schedules and providing safety assurances. He also works with customers and spends time in the field.
"Since I've been in Grangeville I have gone out with each of our crewmen to their respective coverage areas," he said. "It's going to be a lot of help to me to understand the physical makeup of an area as well as where it is and how long it takes to get there."
"Otherwise, I might not understand why Eric Robie would need extra time to complete an order in Elk City," he smiled. "As it is, I got to see Elk City and it is beautiful."
Schwendener said that is something he has already grown to appreciate about Idaho County and the surrounding area.
"It is an amazing backdrop as a place to work and live," he said. "It is exceptionally beautiful here."
He said he and his wife, Katie, and son, Ethan, almost 2, enjoy outdoor activities including hiking and fly-fishing. Katie is an X-ray technician who is currently a stay-at-home mom.
"We look forward to exploring the area more and more," he said. "I also have a dual sport motorcycle and have heard the MacGruder Trail is pretty amazing, so that might be in the works at some point." The family is also sports enthusiasts and hope to get in on high school events.
Although all their family lives in Oregon, Schwendener knows they will probably have at least one frequent visitor.
"My dad loves fly-fishing and when he found out there was a possibility of us coming to Grangeville and he saw all the rivers close by, he said, 'Yeah, I think you need to go there,'" Schwendener grinned. "He thinks he has a summer home now."
The Grangeville Avista office (across from Cash and Carry and Ace Home Center) is manned by front office person Holly Cox Monday through Friday, 7 a.m. to 3:30 p.m. Schwendener's office schedule varies as he goes out in the field, but he can be reached at 1-800-227-9187 or by e-mail, jeff.schwendener@avistacorp.com.