Photo by Andrew Ottoson
Since 2000, Idaho County has seen the cost of solid waste management more than double, as this annual budget line has grown from $780,000 to $1.76 million – a total increase of nearly $1 million. The relative stability of the early 2000s gave way to a sharp rise from 2006-2008. That surge was followed by relative stability from 2009-2012, which commissioner Skip Brandt on Jan. 26 attributed to dumpster consolidation in the Clearwater Valley during the mid-to-late 2000s. A half-million dollar rise since 2012 has made reform one of the commission's priorities. Not all of the cost is covered by the fees county landowners and businesses pay, as some of the burden – including $74,619 last year, or about five percent of the total – has fallen on local property tax payers as a whole.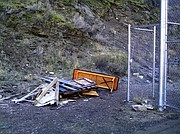 GRANGEVILLE — The days for anonymously dumping any amount of any kind of solid waste at any time of day or night any day of the week aren't yet numbered, but the Idaho County Commission recently heard testimony describing one possible end of the old way.
Though they haven't changed solid waste fee rates in eight years, Idaho County officials are finding that tamping down surging costs may involve both reducing dumpster access and nudging fees higher. In 2015, the county saw a 3.4 percent year-on-year rise in solid waste tonnage, but also saw solid waste fees fall short of covering the existing system's upkeep, leaving property taxpayers on the hook for nearly $75,000 – an amount already almost equivalent to a month of service, and an amount which may grow in the absence of new cost controls or higher fees.
Because open-topped, open-access dumpsters across the county are often over-stuffed, and because the overage presently falls on property taxpayers, the commission is continuing to consider centralizing facilities.
During the past half-year, the commission has been closely considering what solid waste contractor Simmons Sanitation calls "mega drop-off" sites, which would replace a number of dumpsters in the area. Planning has centered on a Grangeville-area facility, with one in the Cottonwood area to follow. (The Free Press reported the first steps of this planning last June. That report and others are part of our online archive: search "solid waste" on www.idahocountyfreepress.com.)
What is a mega-drop-off site, and why?
State regulators view drop-offs very differently from transfer stations like the core facilities operated by Simmons Sanitation of Kamiah and Walco Inc. of Grangeville. New transfer stations must undergo lengthy siting processes, but the mega drop-offs the commission is considering would not face review under current Idaho Department of Environmental Quality rules, Simmons Sanitation owner-operator Robert Simmons told the commission Jan. 19.
"Megasites, you don't have a permit because…we do not drop off," he explained. "We only pick up. That's the key to the difference between the two."
The mega drop-offs would be closely managed, higher capacity facilities designed not only to handle an uptick in the amount of solid waste entering the county system, but also to allow the county to start sorting out how solid waste enters its system.
The mega drop-offs would receive county residents' garbage three days per week, and would include on-site sorting for different types of waste such as recyclables, oil, batteries, antifreeze, brush, construction/demolition and household garbage. Sorting would allow taxpayers to tap into potential cost-savings of up to $50 per ton for some kinds of refuse, compared to treating it all the same way.
Commissioner Mark Frei explained at the Jan. 19 meeting why establishing such a site would involve a slight fee hike across the county – $2 per household per year on top of the $198 annual fee residents and agribusinesses already pay. The hike would be necessary, despite Frei's efforts to design the reform to be cost-neutral, because the cost of leasing land for "mega drop-off sites" is not built into the county's existing solid waste contracts. Frei's discussions with Simmons have explored ways building mega drop-offs could reduce certain costs, but these talks have not yet identified any savings Simmons would pass on to the county.
Months of research and discussion have allowed Frei to evaluate several locations for a mega drop-off. He has eliminated two candidates on the north side of Grangeville, leaving one plausible location on land owned by Tim Kaschmitter east of town. The site – located north of Mount Idaho – would cost the county $1,300 per month, or $15,600 per year, to lease.
The county has also begun contemplating consolidation in the Cottonwood area, where a similar facility would likely come with a similar price tag. But no Cottonwood-area candidate locations have yet been publicly identified.
Each of the mega drop-offs would be manned three days a week, with Simmons personnel alternating between Grangeville and Cottonwood. They would be fenced such that hand-carried items could be brought in during off-hours, but the possible change in hours for dropping off pickup loads generated much discussion at the Jan. 19 commission meeting.
"I can see the hours might be a problem, an inconvenience for people," county attorney Kirk MacGregor said. "Because now you can go any time. You narrow that to three days…"
Simmons interjected to explain how alternating days at each of the mega-sites could be provided without changing his costs, which he said are tied to how many people and trucks his company would have to deploy.
Commission chairman Jim Chmelik observed: "You're going to have some tradeoffs versus convenience when you try to keep costs down."
The tradeoffs: should solid waste service be cheaper or more convenient?
Presently, solid waste across most of the county is being handled under a 2012 contract between Idaho County and Simmons. At the Jan. 19 meeting, Simmons noted his company is handling more waste each year under the deal, which covers areas including the Camas Prairie, as well as Elk City and Salmon River communities: 3,911 tons in 2013; 4,103 tons in 2014; 4,241 tons in 2015.
Under a separate deal, the county has long contracted with Simmons for solid waste service in the Clearwater River valley. Prior to 2012, the county contracted with Walco, Inc. When considering a 10-year contract in December 2012, the county rejected Walco's bid of $87,000 per month in favor of Simmons' bid of about $77,200 per month, which involved dumpster consolidation on the Camas Prairie similar to consolidation Simmons had implemented in the Clearwater valley in 2008. Walco's proposal called for an increase of five percent per year.
At the Jan. 19 meeting, Simmons said that a change in Walco's weekend hours has "increased our load tremendously."
"We have had some instances on the weekend where there is another transfer station that is closed, I do believe half a day on Saturday and all day Sunday," he said. "What that has increased is the city residents coming to those [Grangeville-area] dumpsters."
Knowing where waste comes from would allow the county to start reapportioning waste fees, but finding out how to divide the burden fairly would involve surveying those who use county facilities. In turn, the survey would involve requiring drop-off users to present proof of residency before dumping. It would also involve eliminating the open-access dumpsters closest to local cities and towns.
Presently, city residents pay $13.80 annually for solid waste service. Simmons said cities may eventually need to "work out a fee that's a little more realistic. $13.80 isn't, not when you have an unlimited use system, it's not."
The county fee covers use of county dumpsters. City residents pay a separate fee for door-to-door service: roughly $234 annually in Grangeville, Cottonwood or Kooskia, or $296.40 annually in Riggins.
"The only way to control garbage is to control the tonnage," Simmons said. "That's why you see other counties doing what they do. Clearwater County, for example, I think they're at $154.70 a year. They charge the county residents the same as they charge the city residents. They have two dumpster sites…the rest is either contracted out for door-to-door service or they drive all the way to Orofino. That's it. They control that waste when they come into the transfer station."
By contrast, Idaho County's open dumpsters frequently receive high-cost loads that also inconvenience system users.
"The dumpsters are set up for about two yards a week for users, so when you have someone who comes in and buries two six-yard dumpsters or two eight-yard dumpsters, they went way over their weekly allowance and it's making it so others can't use them," Simmons said. "That's the biggest problem I see."
In response to commissioner Skip Brandt's question about whether mega-sites would provide more "bang for the buck" than developing a third transfer station would, Frei said: "I think a transfer station is probably cheaper. I do think it's less convenient. How much do you want to trade a little bit cheaper for less convenience?"