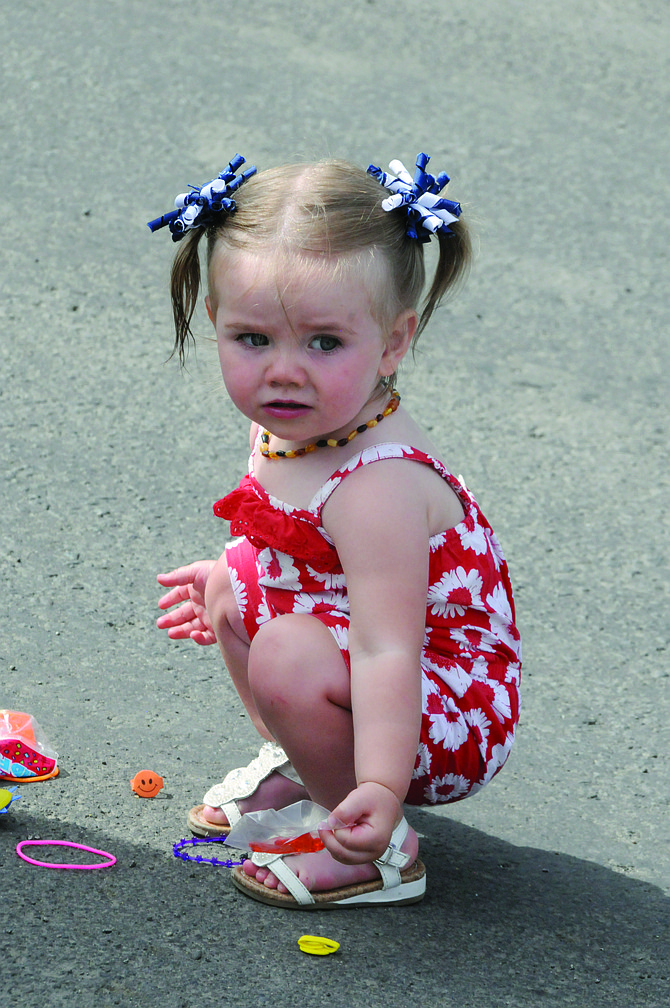 Photo by Lorie Palmer
Grangeville Health and Rehabilitation once again provided a plethora of tchotchkes and littered Main Street with them for the annual Toy Scramble. More than 200 children ages 6 and younger collected toys and candy. This little one was not quite sure whether to pick up toys or watch others.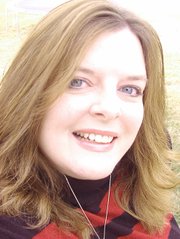 The ACS Camas Prairie Relay For Life event is right around the corner, set for Saturday, July 16, in Pioneer Park in Grangeville. The survivor reception begins at 5 p.m. and all cancer survivors and their caregivers in the area are encouraged to attend for refreshments, celebration and surprises. The evening will be full of games, a barbecue, the luminaria ceremony, and the closing ceremony at 11 p.m. Place an ad "in honor of" or "in memory of" your loved one for the Relay For Life page which will be in the July 13 edition of the Free Press, by calling Lisa or Mary Beth at 983-1200. The deadline to do so is Friday, July 8.
•
John Crotinger with the local VFW Crea-DeHaven Post 3520 called to let me know he and the post members "surely appreciate" Grangeville Health and Rehabilitation for their "show of patriotism" in placing the American flags in town residents' yards July Fourth. I also heard this reiterated by many people who also appreciate this gesture. On a side note, the VFW places the larger American flags up and down Main Street. Thanks so much!
•
I was fortunate to drive up to Woodland (Carrot Ridge, actually) last week and meet with Frank and Pam McIntire. It was a beautiful drive, great visit and I was privileged to eat lunch with them as well as Frank's mom, Anna, and three of their young grandsons. Did I say lunch? In my book it was an amazing home cooked dinner with baked chicken, corn on the cob, Caesar salad and fresh raspberry pie with ice-cream. You were probably thinking, "Poor, Lorie, she had to drive such a long way for that interview." That was until you heard about the food. Yeah, don't feel sorry for me. I actually knew Frank's sister, Kathy Hendrickson, when I was a teen in Washington and we attended the same church. I baby-sat their four children occasionally for her and her husband, Phil. Small world!
•
Have you noticed the heron and salmon at the Heritage Square fountain? The Chenoweths – who gave us the elk sculpture on U.S. Highway 95 at Green Acres turnoff as well – are responsible for donating this public art. They really are nice sculptures; stop and take a gander.
•
OK, if you call the Free Press and ask for Lorie, you might just get Laurie. So you will have to specify if you want Lorie Palmer or Laurie Chapman. This Lorie has been here 21 years now and just last week we were joined by Laurie Chapman from Cottonwood. Laurie C. will be doing some reporting, photographing, typesetting and "other duties as assigned," which is basically what everyone on the news staff does! Stop in and welcome her if you're out and about, and we'll tell you more about her in the near future.
•
It was a long four days of celebrating the Fourth but also a lot of fun. Thanks to everyone who helped with every little thing that made Grangeville's Border Days such a fun event. The rodeo had great attendance each night and I was proud of our royalty girls for all their work and representation, as well as the dedication of the newly-crowned girls. As the mom of the outgoing princess, it was a busy, tiring week, but worth it in so many ways. I had fun at every street race, egg toss, parade and other events at this 105th celebration.
•
A note of interest in this year's street sports: As you know, each day there is a foot race for different age groups of boys and girls. It's a fun old-fashioned tradition and three winners are named for each group with first place winning $3, second place $2, and third place $1. I always enjoy watching this, but as Dr. Petersen's wife, Terri, said on the Fourth, "I am most interested in the geography of the winners." This year there were winners from Florida, Arizona, Colorado, Pennsylvania, Oregon, Washington, California and of course, Idaho. And one kid wearing a Superman shirt who said he was from "Planet Krypton." Wow. Word of Border Days popularity really gets around.