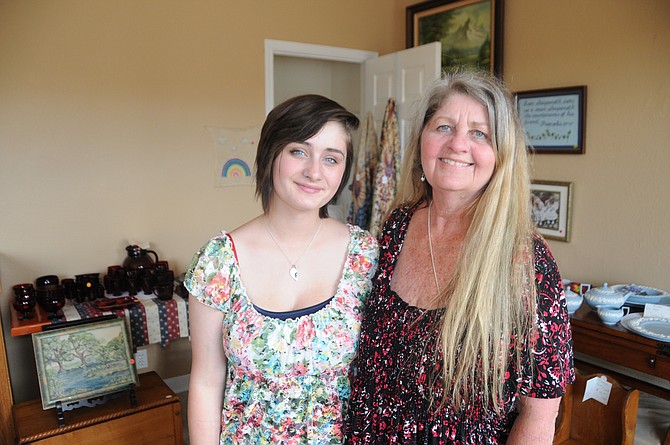 Photo by Lorie Palmer
(L-R) Granddaughter and grandmother Raven Yorke and Bonita Perreault are running the Cross Over Ministry for Everyone storefront located at 113 W. N. Street in Grangeville.
A dream stayed alive in the heart of Bonita Perreault for more than 30 years before it finally came to fruition.
Perreault opened the store Cross Over Ministry for Everyone at 113 W. North Street, Grangeville, in between The Gallery and Community Action Partnership, this month with the grand opening held last Wednesday, July 13.
"I want to help others cross over from lacking to abundance," she said.
Perreault and her husband moved to the Mt. Idaho area more than a year ago but have visited the area for about a decade as their daughter and family live in Cottonwood, and her grandparents were married in Lewiston in 1915. Perreault's husband retired from the United State Postal Service and now works at the Idaho Forest Group mill along with his son-in-law and grandson.
"I love it here and was so glad to be able to move here," Perreault said.
Cross Over Ministry for Everyone is a non-profit that has been in business since 2011. It allows the Perreaults to be able to fill in the gap and help people as needed.
Perreault networks to assist those who have trouble meeting basic life requirements, which can range from non-insured dental work and gas money for medical appointments, to vehicle, housing and furniture needs.
The storefront offers a way to sell items and raise money for various needs, but aside from donations for the store, Perreault is also seeking names for an e-mail list "Fruit of the Spirit."
"This is a way to communicate with people and let them know the needs that arise – I do not ask them personally or try and get them to offer anything. That is between them and God and I am simply a middleman to help find the resources," she explained. The e-mails may go out once or twice a month, but Perreault said she does not inundate people with requests.
Cross Over Ministry offers donation receipts for everything people give.
Working in the store this summer, which is open Wednesdays through Saturdays, 10 a.m. to 4 p.m., is Perreault along with her 15-year-old granddaughter, Raven Yorke.
Perreault said she does not judge what is a "legitimate" need and although the ministry she operates is faith-based, she does not care what religion ("if any"), sex, gender or anything else a person is.
"That's not my call," she said. "I am here to help do what I can to help others live more abundantly and do what God directs me to do."
"The ministry is not at all judgmental," added Yorke.
Perrault's store deals in antiques, collectibles and vintage items. The public is encouraged to stop by, say hello and check out the store as well as ask any questions about the ministry.
"I want people to know where my heart is and that is to help others," she said. "This is a great community and there are a lot of resources, but there are gaps and that's what I'm here for – I'm a gap filler."
To talk to Perreault, who is an ordained minister and has counseling experience, call 983-0062, e-mail crossover4everyone@cox.net or log onto www.crossover4everyone.org.
Cross Over Ministry has a truck for pick-up or items for donation can also be dropped off directly at the store.