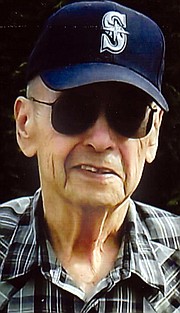 Gerald (Jerry) Fleming was born June 1, 1933, in Grangeville Idaho, and entered into rest on July 12, 2016, in Spokane Wash. He attended school in Grangeville and was drafted into the Army during the Korean War, where he served stateside at Ft. Bliss, Texas, and Ft. Lewis, Wash. After the Army, Jerry was employed by Pacific Northwest Bell. He married Vada Marie Zodrow in December, 1955. They moved to Lewiston, Idaho, where they lived until 1972 and then relocated to Spokane.
Jerry was an avid outdoorsman. He enjoyed being in the woods hunting, picking huckleberries, and cutting wood. Being near the water also held a special attraction to him. Jerry spent many hours on rivers, lakes, streams and the ocean fishing. He liked to travel, and made yearly trips to the Oregon Coast. He was a Mariners fan, rarely missed a game, and was able to attend many over the years. Jerry was proud of his Native American heritage and was honored as an elder in the Nez Perce Tribe last year. Jerry had a great sense of humor, was a good, honest man, and a wonderful husband and father. 
Jerry is preceded in death by his wife, Vada; his parents, Rose and David; and two siblings, Yvonne and Dennis.  He is survived by his three children, Margie (Jeff), Harvey (Linda), and Ron; and two sisters, Corrine and Shari Ann.
Viewing was at Ball & Dodd Funeral Home, 5100 W. Wellesley, on Monday, July 18, 2016. Graveside service was held at St. Joseph's Cemetery, 17825 E. Trent, Monday, July 18, 2016.
Donations may be made to Riverview Retirement Community, 1801 E. Upriver Dr. Spokane WA 99207, Memorial Fund (in memory of Gerald Fleming.)