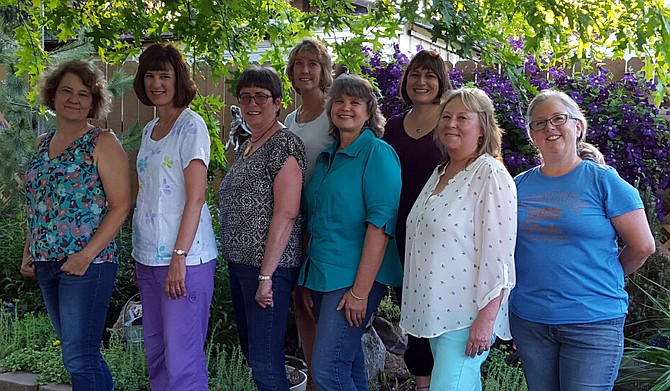 Dana Greig
Treasure Life Book Club members (pictured) recently donated $1,085 to Syringa's Cancer Resource Center. They hosted an annual yard sale, with 100 percent of proceeds helping those affected by cancer locally. Pictured are members (front, L-R) Karen Wisdom, Julie Church, Betty Nafziger, Starla Liggins, Sandra Aiken, Mary Beth Davis and (back, L-R) Mary Beth Meyers and Megan Lucas. Not pictured is Beth Mager.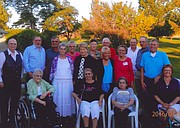 Pioneer Senior Citizens
Agnes Forsman opened the July 12 meeting of the Pioneer Senior Citizens with the Pledge of Allegiance and also led the dinner prayer. Guests were Alyx Tacke of Portland who came and joined grandmother, Lorraine Nuxoll and grandfather Mark Tacke, for dinner. Pam Smith of Grangeville came to help cook.
There were 56 meals served with 13 home-delivered meals. Mark Tacke won the free dinner. Katie Remacle and Anna Gehring shared a joke with the group. Norma Schumacher won the nickel bingo pot while Dolores Kindall won the blackout. Door prize winners were Eleanor Hinkelman, Ron Sonnen, Norma Schumacher, Joanne Sonnen, Reggie Kaschmitter and Buddy Hood. It was Isabelle Kaschmitter's birthday!
Come join us for a meal every Tuesday for a small donation at the Cottonwood Community Church basement. Meals are served at noon.
Menu for July 26: Special Turkey Salad, Angel Food Cake, Blueberries w/Whip Topping; this is also the birthday meeting.
Grangeville Senior Citizens
July 11: Pledge: Stanley Modrell; prayer: Orville Biggers; free dinner: Lewis Endsley; meals at site: 64 with 37 home-deliveries. Guests: Dick Hooper, 90th birthday. Bingo winner: Donna Barnett; blackout winner: Betty Stoorza.
July 15: Pledge: Stanley Modrell; prayer: Barbara Essen; free dinner: Joyce Pottala; meals at site: 78 with home-deliveries of 35 hot and 58 frozen. Guests: Sheriff Doug Giddings, Undersheriff Jim Gorges and Det. Brian Hewson. Bingo winner: Donna Barnett. Blackout winner: Mel Willis.
Menus – July 22: oven-fried chicken, mashed potatoes/chicken gravy, tossed veggies salad/balsamic dressing, apricots; July 25: tuna salad on lettuce, vegetable soup, whole wheat roll, mandarin oranges.
More like this story