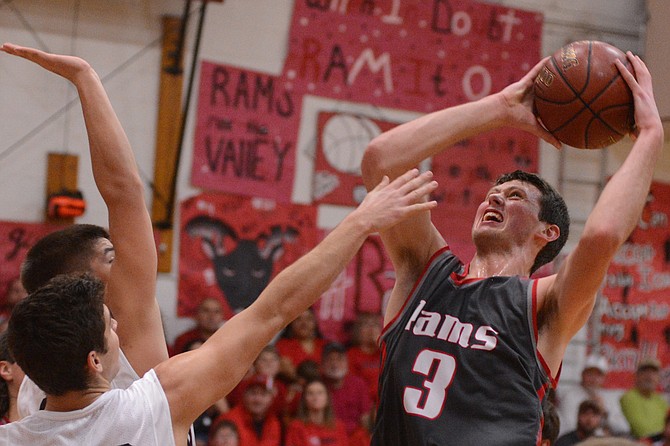 Photo by Andrew Ottoson
Clearwater Valley's Grant Wallace buried Kamiah during the second half, tallying 11 of his 17 points after intermission last Friday night, Dec. 11, at the Upriver Rampage. Wallace is pictured shooting over Kamiah's Chris Pethtel and Kaleb Oatman.
Grant Wallace transferred to Clearwater Valley High School last fall and his offensive output greatly boosted the Rams' chances every night in the ultracompetitive Whitepine League.
He's on his way to Rocky Mountain College on a full ride scholarship, where he'll start down a career path toward athletic training or physical therapy.
He pulled a 3.3 grade-point average in high school and that, combined with his basketball ability, is paying for "everything, books, food, tuition and housing," he said July 14. "I'm planning on going into health and human performances and transferring over to University of Montana."
His area of study involves learning "a lot about how the body works and how to manipulate the body and how to get the body into top physical form."
It fits with his interest in sports.
"I enjoyed health classes in high school and so I feel like I'll be able to grasp it pretty well," he said.
His interest in basketball began at a very early age, and he has become a soccer fan.
"I'm very big into soccer," he said. "I'd like to go to England and watch a couple of soccer games, or go to Barcelona and watch Real Madrid play FC Barcelona."
He has become an NBA basketball fan, and his interest in playing basketball began at a very early age.
"My mom got me into basketball. She was a diehard basketball player when she was in high school and when she had me, I had a ball in my hand as soon as I was old enough to walk," he said. "It came naturally, with a little bit of a push from my mom."
Coaches have boosted him along the way, "starting from my first AAU coach, Brad Parker, who helped me with fundamentals and Kerry Finberg, he really helped me figure out what kind of basketball player I should strive to be," Wallace said.
The college recruiting process began when Rocky Mountain contacted him at a tournament in Lewiston, he said.
The coaches there won him over.
"Coach Dreikosen is a very funny guy, a well-mannered man and I can't wait to play for him," Wallace said. "His assistant coach, coach Cobb, is excellent and I'm excited about playing for them this year."
Apart from his time at CV, Wallace played in Kalispell, Mont., Columbia, Mont., and in Las Vegas with the Northwest Cougars.
"We went down to Vegas for a couple of tournaments down there," he said. "I got to play against a couple of kids who were ranked in the class. We battled them pretty hard, but they had more depth and it was more competition than we could handle. It was still very exciting."
As a Ram, he found a different style of basketball being played in North Central Idaho than he grew up with in Montana.
"It's a lot different kind of basketball around here," he said. "In Montana, we're used to a little bit of run-and-gun, moving the ball and finding open shots. Coming to CV, it was a lot more defense-oriented."
Wallace said he'll remember playing against Jake Bruner and against the Lapwai squad.
"Jake Bruner was definitely a competitor, and I enjoyed playing against him, and the Lapwai squad was a challenge...fun for us, but quite challenging," he said.
He said Tres Tinkle is probably the best individual player he's ever personally faced.