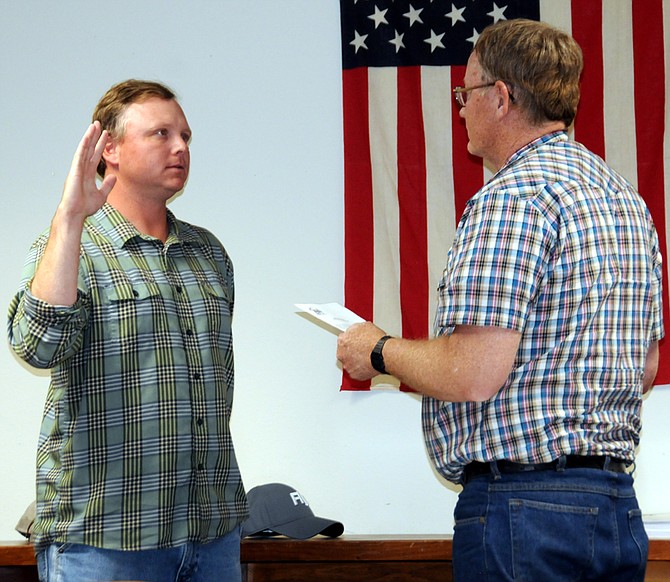 Photo by Lorie Palmer
Jeremy Harris is sworn in by Lot Smith as the new Mountain View School District 244 Zone 5 trustee.
GRANGEVILLE — Mountain View School District 244 gained a new board member when Jeremy Harris of Grangeville was sworn in at the July 18 board meeting.
Harris and Chris Roach each interviewed for the open Zone 5 trustee position at the June 20 meeting; however, Roach since dropped out, trustee Lot Smith explained, due to health issues in his family. The board voted unanimously to appoint Harris to the position. He fills the place of Sally Nolan of Mt. Idaho who resigned as she is moving out of state.
The board also reorganized at the July meeting with Mike Dominguez of Kooskia, Zone 4, voted in as the new chairman. Lot Smith, former chair, is now the vice-chairman.
"Well your reign of terror is over," joked zone 2 trustee Casey Smith of Clearwater, brother to Lot, who represents Zone 1.
MVSD business manager Becky Hogg was also re-elected the board treasurer and clerk. In addition, trustee Rebecca Warden of Grangeville, zone 3, was re-elected as legislative representative for the board. She will continue to act as a liaison between the school board and Idaho legislators.
The entire board signed the MVSD 244 code of ethics for board members following a discussion about the legalities of signing.
Casey Smith, who had not previously signed this code, questioned Lot on it.
"I had asked Mr. Stokes to check with our counsel, Mr. Green, if this is a requirement," he said.
Lot explained the board has the right to make its own policy and require board members to sign that policy prior to being sworn in; however, since Casey had been sworn in before he was asked to sign the code of conduct, Lot was unsure.
Warden suggested Casey might think of signing the conduct with a note of what part of parts he objected to.
Casey did sign the code, making a note of his exception to Number 13, part B, that states, "Once a decision is made, all board members will support that decision."
The discussion on this relates to earlier this year when Casey was not in favor of the $2.6 million levy amount that passed 4 to one with Casey voting against it. Because he did not agree with the levy amount and the burden it places on property owners, he campaigned against the levy.