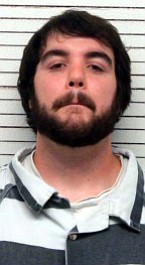 Bad luck and poor decisions on an alleged thief's part has netted him multiple felony and misdemeanor charges.
However, investigators suspect these two related cases may not be the only ones the Lewiston man has committed within the region. The Idaho County Sheriff's Office is inquiring for possibly more victims who may have had cash or items disappear, coinciding with a package delivery service.
An Aug. 2 preliminary hearing is set for Sean Michael Lee Hudson, 26, on charges of burglary, grand theft and possession of forged checks. He also faces an Aug. 9 pretrial on a related misdemeanor petit theft charge.
Hudson came to law enforcement's attention May 13 following a theft report by Linda Junes of cash stolen out of her purse at her remote Grangeville-Salmon Road home the day prior. According to ICSO Detective Brian Hewson, Junes had recently withdrawn cash from her bank, and that May 12 afternoon she had taken a nap, and upon awakening had found in the meantime a package had been delivered and set on her dryer; next to it was her open purse and the cash was missing.
Based on an eyewitness report of the vehicle and suspect, Hewson and Dept. Craig Hoodman located a City Parcel Delivery vehicle on U.S. Highway 95 between Grangeville and Cottonwood, driven by Hudson; after questioning, Hudson allegedly admitted to the $340 theft. Hewson noted petit theft is not an arrestable offense, so Hudson was ticketed and set for court.
Two months later, on July 15, secretary/financial clerk for Prairie High School in Cottonwood, Cheri Holthaus, reported seven checks had been stolen off their office printer, and an investigation of suspicious financial activity found five had been cashed – from June 28 to July 11 — for a total $5,640 by Amanda Dummer, 26, of Lewiston. Initially, finding the connection was looking challenging, according to Hewson, as the school was going through construction with multiple individuals coming and going. But social media provided a shortcut:
"I pulled up Amanda's Facebook page," he said, "and there was a picture of her and her boyfriend, Sean Hudson, driver for City Parcel Delivery."
Another break came with school video surveillance that, upon review of June 17, showed Hudson allegedly taking the checks from the printer and concealing them under his shirt. Hewson said they were fortunate as several cameras were down for construction, but the one that was working covered the exact area of the office where the theft was well-viewed and recorded.
Law enforcement avoided an extensive search for Hudson, who came to the Idaho County Courthouse in Grangeville for his July 19 hearing on the misdemeanor theft charge and inquired for Hewson to speak on his behalf, "so he could get out of jail time," Hewson said. Instead, Hudson was questioned and subsequently admitted to the checks theft.
Regarding Dummer, Hewson said case information has been forwarded to the Lewiston Police Department for review into possible related charges regarding the checks within its jurisdiction.
Detectives are skeptical on Hudson's claim these are his only two crimes, and they ask the public to recall whether they remember items going missing that coincided with a package delivery. Normally, packages are left outside or within the door, Hewson said, so if you've had one left within your home, "that should raise some red flags."
 •
To report a possible theft, call ICSO, 983-1100.