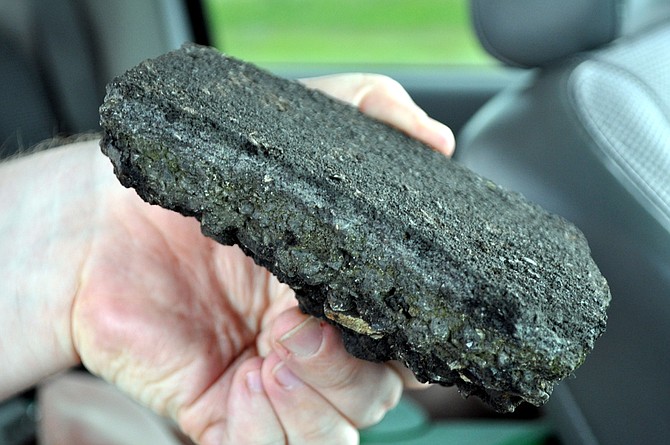 Photo by David Rauzi
A chunk of loose asphalt from the Idaho County Airport runway.
GRANGEVILLE — Fixed-wing operations shut down at the Idaho County Airport this Friday, June 3, as the multi-million dollar runway reconstruction project gets under way.
According to airport manager Mike Cook, project contractor Valley Paving of Cottonwood was given notice to proceed – effective Monday, June 6 — on the $4.020 million work to relocate the 5,100-foot-long runway 40 feet north and 100 feet east to increase its separation from both the adjacent taxiway and Day Road, and to address deterioration issues through an improved drainage system.
Seventy-five working days is set for the project, which will last tentatively into October, during which fixed-wing aircraft will not be able to use the county facility; however, helicopter traffic will be able to continue. For the duration, fixed-wing Forest Service firefighting aircraft – including smokejumper and SEATs (single engine air tanker) — will be disbursed between the Cottonwood and Lewiston airports.
As part of the county airport project, taxiway reconstruction is also planned. However, whether the work will proceed this year or next summer depends on whether a Federal Aviation Administration grant award is confirmed – at the latest by June 28 — with sufficient time to conduct the work this construction season.
Conducting the taxiway project this year would save several hundred thousand dollars, said Cook, "as they would already be mobilized up and all the equipment would be here. All they would have to do would be to order additional asphalt."
According to awarded bids, taxiway work this year is $1,287,000, but if conducted in 2017 the project bid is $1,629,000; nearly a 27 percent increase.
Airport work is being funded 90 percent by an FAA grant, with the remainder costs covered by Idaho County (7 percent) and the Idaho Division of Aeronautics (3 percent).