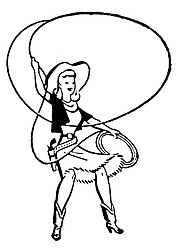 GRANGEVILLE — This year's Border Days will celebrate 105 years! Wow. Mark your calendars for July 1 through 4.
*
Did you know this is John Urbahn's 40th year as a pyrotech for the Grangeville fireworks? That's a lot of years worth of fireworks! Thanks to the Grangeville Volunteer Fire Department for their help in making a great show possible each year.
*
Attention Grangeville High School band and choirs:
The GHS bands will rehearse on Monday, June 6 and 13 at 6:30 p.m. in the GHS music room. All students grades 6-12 are encouraged to play. They will rehearse "Blues Machine" and the National Anthem. If you cannot make practice, contact Mrs. Stefani at 839-2220 to arrange to get music. The band will perform on the 4th, meeting one hour before the parade in front of Palenque. (riding a trailer) Alumni members are invited to join as well, including the recent graduates. Varsity Blue, and alumni, will rehearse on the same Mondays, June 6 and 13 at 6 p.m. in the GHS music room, doing Boardwalk and the National Anthem. The choir will sing July 2 and 3, meeting at the trailer one hour prior to parade also in front of Palenque.
*
Did you know the father of this year's Border Days grand marshal (Wayne James) Francis James attended the first Border Days celebration in September 1911? True story. Francis was just a young boy of about 6 years old. A photo documents the family at the celebration.
*
Border Days royalty just received in the mail a large, red second place ribbon from the Asotin County Fair and Rodeo Parade that was held in April. Good job!
*
In answer to last week's trivia question: So who was that Border Days Committee member who was the first baby born in Grangeville in 1996? None other than Justin DeFord.
*
Here's another trivia question for you: What former Border Days member and current member were part of Grangeville High School's football offensive line in 1986?