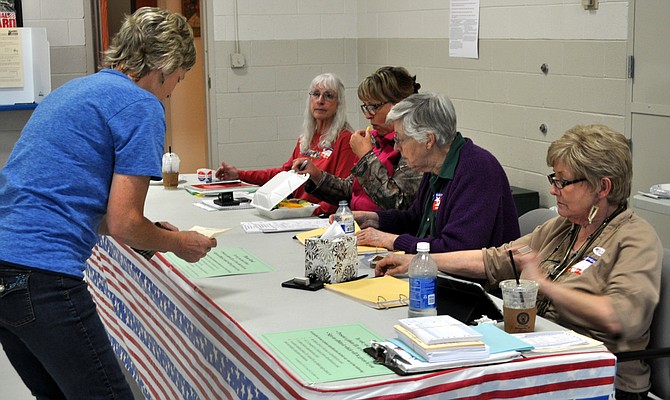 Photo by David Rauzi
A voter receives assistance at the Grangeville polling station May 17.
Official results released by the Idaho County Elections Office last week show voter turnout was at 41.59 percent for the May 17 primary election. This is nearly five percent higher than the last primary election turnout (36.68 percent) in 2014.
Ballots were canvassed by the Idaho County Commission last week.
Numbers totaled from Idaho County's 28 precincts for contested local Republican races are as follows (winner in bold):
District 2 Commissioner: Rusty Bennett, 1,369; Mark A. Frei, 1,751. Frei received 56 percent of the vote.
District 3 Commissioner: Denis B. Duman, 2,024; Jim Chmelik, 1,157. Duman received 64 percent of the vote.
Frei carried 20 precincts (Clearwater, Cottonwood 1-2, Elk City, Ferdinand, Greencreek, Glover, Harpster, Kamiah, Keuterville, Kooskia, Lowell, Pollock, Riggins, Slate Creek 1-2, Stites, White Bird, Woodland and absentee). Bennett carried eight (Big Butte, Fenn, Grangeville 1-5 and Joseph). A total 382 votes separated the two candidates.
Duman carried 18 precincts (Big Butte, Clearwater, Cottonwood 1-2, Fenn, Ferdinand, Greencreek, Grangeville 1-5, Harpster, Joseph, Keuterville, Lowell, White Bird and absentee). Chmelik carried 10 (Elk City, Glover, Kamiah, Kooskia, Pollock, Riggins, Slate Creek 1-2, Stites and Woodland). A total 867 votes separated the two candidates.
Both commission races are uncontested – pending a write-in filing – in the Nov. 8 general election. In the May 17 Republican primary, Idaho County Sheriff Doug Giddings and Idaho County Prosecutor Kirk MacGregor ran unopposed. Giddings will face Independent Carlos Martinez in November.
District 7
Numbers from the four-county (Idaho, Clearwater, Shoshone, portion of Bonner) District 7 area, Republican primary, are as follows (winner in bold). Totals from the Idaho Secretary of State are unofficial until canvassed:
State Senate: Carl Crabtree, 2,504; Sheryl Nuxoll, 2,383.
State Rep. Position A: Priscilla Giddings, 2,848; Shannon McMillan, 1,798.
State Rep. Position B: Paul Shepherd, 3,261; Kris Steneck, 1,193.
Of the three races, state senate was the closest with Crabtree receiving 51 percent of the vote, separated from incumbent Nuxoll by 121 votes. Nuxoll carried the majority – Bonner, Clearwater and Shoshone counties – while Crabtree carried Idaho County. Crabtree will face Democrat Ken Meyers on Nov. 8.
The largest win was by incumbent Shepherd, who received 73 percent of the vote, carrying all four counties, separated from challenger Steneck by 2,068 votes. Following, Giddings received 61 percent and overcame McMillan with a 1,050 vote difference; Giddings carried Clearwater and Idaho counties, and McMillan took Bonner and Shoshone.
Shepherd will run uncontested in November, while Giddings will face Democrat Jessica Chilcott.
Idaho County breakdown
Idaho County reported 9,363 total registered voters as of May 17, of which 71 registered on election day; 662 absentee votes were cast.
Voter turnout was largest in mail-out precincts: Big Butte, 72.2 percent; and Slate Creek I and II, 60 and 60 percent, respectively. Other turnout: Clearwater, 28.7 percent; Cottonwood 1-2, 50.1 and 45.5 percent, respectively; Elk City, 27.3 percent; Fenn 43.5 percent; Ferdinand, 43.4 percent; Greencreek, 57.4 percent; Glover, 31.5 percent; Grangeville 1-5, ranged 22.3 to 33.9 percent; Harpster, 33.2 percent; Joseph, 52.9 percent; Kamiah, 22.9 percent; Keuterville, 54.5 percent; Kooskia, 29.7 percent; Lowell, 48.3 percent; Pollock, 33.4 percent; Riggins, 40 percent; Stites, 32.2 percent; White Bird, 34.4 percent; and Woodland, 41.9 percent.