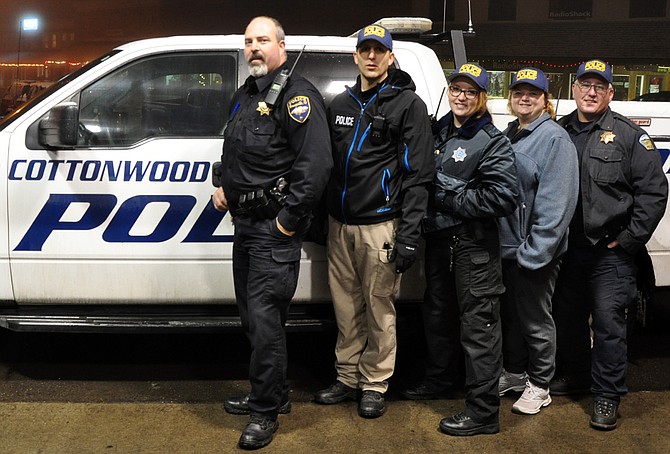 Cottonwood Police Department
(L-R) Officer Wes Walters, Officer Jason Rambo, volunteer Officer Danielle Cochran, volunteer Jennifer Cochran and Chief Terry Cochran.
COTTONWOOD — Efforts by the staff and volunteers with the Cottonwood Police Department have been recognized, earning it the May program spotlight for the Idaho Office of Drug Policy (IODP).
According to a statement by IODP, "Cottonwood Police Department is a shining example of an agency that knows how to take a few resources and turn them into large impact."
CPD was noted for taking a proactive, multi-faceted stance to youth substance abuse prevention. Agency focus is on education and prevention, positive peer pressure, and educating parents and community members on the newest drug and alcohol trends; as well as encouraging the community to be involved in finding solutions to the local substance abuse problems.
The agency partners with Cottonwood School District to provide an officer in the schools, and at events where there is a higher risk of delinquent youth behaviors, as well as implementing roving party patrols.
"They have found that having an officer present and approachable to students and staff has led to a 'conduit between the patrol staff and the school staff,'" according to IODP. Additionally, CPD utilizes a volunteer drug and alcohol education coordinator to educate school staff, youth and community members on current alcohol and drug trends. 
According to CPD Chief Terry Cochran "We have found that enforcement alone will not solve the problem; it takes a collaborative community approach."
Cochran is CPD's only full-time officer. Serving part time are Officer Wes Walters (works full-time for Grangeville Police Department), Officer Jason Rambo (works full-time as program manager for Idaho Department of Correction), volunteer Officer Danielle Cochran (works full-time as Nez Perce County deputy), and volunteer Jennifer Cochran (works as EMT for St. Mary's Hospital in Cottonwood).