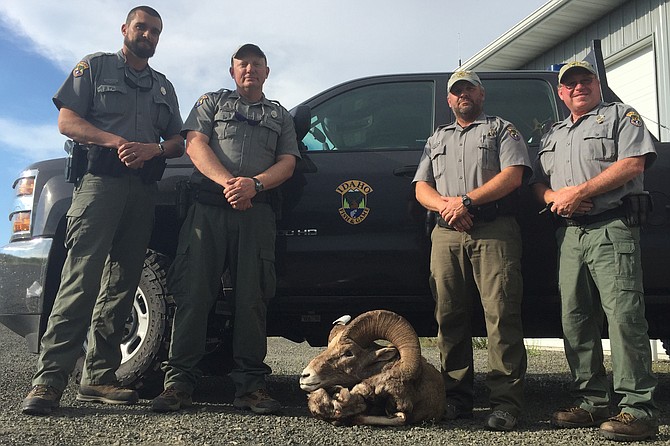 Photo by Andrew Ottoson
The Idaho Department of Fish and Game doesn't catch every poacher, but because of their diligence, the man who shot and killed the pictured ram was sentenced to 30 days in jail in addition to fines, court costs and civil penalties of $10,000. Under the sentence handed down in district court Monday, June 6, Paul R. Cortez of Nampa included a lifetime loss of hunting privileges. Pictured are the officers who busted Cortez at a camp along the Salmon River last November: Dennis Brandt, Craig Mickelson, Brian Perkes and Roy Kinner.
Paul R. Cortez faced justice Monday in District Court.
Judge Gregory FitzMaurice handed down a stiffer sentence than had been contemplated last time Cortez was in court for having shot and killed a bighorn sheep in Salmon River country last November.
In April, Cortez pleaded guilty under a Rule 11 agreement under which the state agreed to drop other charges he was facing. The deal had envisioned Cortez spending 15 days in jail, but FitzMaurice thought that sentence would have been too light. He doubled it, to 30 days.
"It's my view that you've been given fairly lenient treatment," Fitzmaurice said to Cortez. "My view is that a signal needs to be sent out to others in your situation."
Idaho County public defender Scott Olds had asked FitzMaurice to consider where Cortez's error fit on the spectrum from common mistakes to pure evil, and argued Cortez showed none of the sophistication he has seen in the worst poaching cases.
When he announced his decision, FitzMaurice told Cortez he was not on "the evil poacher side of the spectrum. You're on the fool side."
Olds had argued Cortez was a "rank beginner" who had shown ignorance of hunting laws and practices, but who had not wasted the meat, and who had made no attempt to deceive the quartet of Fish and Game officers who discovered the deed by way of a jet boat patrol.
The Free Press has previously reported the result of that patrol: Senior conservation officer Roy Kinner was joined by Dennis Brandt, Craig Mickelson and Brian Perkes for a run up the Salmon River's main stem just as mule deer season was drawing to a close. At a camp four miles above the Vinegar Creek boat ramp, the four Fish and Game officers found Cortez with blood on his hands. They found a rifle – a Stevens Bolt Action Model 200 in .300 Win Mag topped with a Bushnell 3x9 scope – and among entrails they found in a nearby hole, they found a matching bullet. They found the carcass field-dressed, and it could go without saying that the sheep was a trophy.
In Idaho, bighorn sheep are considered a trophy species; drawing and filling a bighorn sheep tag is a once-in-a-lifetime event few hunters are lucky and skilled enough to achieve. Many of those who encounter bighorn sheep aren't hunters, but rafters who float the Salmon River each summer and take joy just from seeing these creatures in all their wild glory.
Cortez hadn't seen the sheep for what it was when he pulled the trigger. After Olds elaborated a theory that Cortez may have mistakenly identified it as one of deer he and his buddies were there to hunt, Idaho County deputy prosecutor Adam Green called the act a violation of the first rule of hunting.
"Only one person is responsible," Green said. "He shot his weapon at something he did not identify. He killed it. It turned out to be a highly regulated game animal."
Cortez briefly addressed the court, during which he said "I made a huge mistake in my judgment. I regret it."
He asked FitzMaurice not to revoke his hunting privileges permanently, but the judge handed down a lifetime ban, saying: "The killing of animals, especially rare animals, has serious consequences in this state."
However, in light of favorable findings of a presentencing review, Cortez will be able to mix his time behind bars with work release while serving a total of 30 days in county jail before the end of this calendar year.
He may serve some of that in the Canyon County clink, and the rifle is being returned.