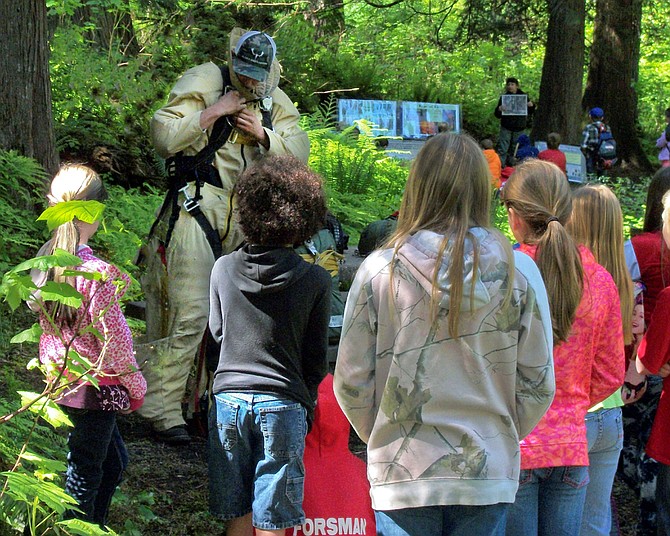 Courtney Couch
Students from Clearwater Valley Elementary School learn smoke jumping "suiting up" techniques from Rye Phipps, Grangeville smokejumper, at O'Hara Campground, Moose Creek Ranger District.
Fourth grade students ran with a parachute and squirted an engine hose as they enjoyed a day in the forest experiencing how forest lands recover after wildland fire.
Forest visits were organized by Courtney Couch, Forest Service fire education and prevention specialist. Each day-long field trip took place at Spring Bar, O'Hara Creek and Musselshell Creek, three fire-affected areas on the Nez Perce-Clearwater National Forests. Students were divided into groups and heard seven different presentations on wildland fire. Presentations included wildland engine operations, helicopter operations, what it means to be a smokejumper, the science behind prescribed burning, the ecological benefits of fire, and making a 'firewise' home.

The Nez Perce-Clearwater National Forests were one of 186 federal recipients selected to receive an Every Kid in the Park (EKIP) grant. These grants provided funding for transportation to get children outside, exploring their public lands. The grant covered the cost of busing 4th grade students from Nezperce, Grangeville, Kooskia, Kamiah, Weippe, Pierce, Riggins and Orofino to sites on the Nez Perce–Clearwater National Forests.
In addition, the Forest Service visited classrooms before and after the field trip to give students an opportunity to discuss their experiences surrounding the 2015 fire season. This effort was led Matti Sand, a U.S. Forest Service fire lookout.
Following the field trips, students used poetry to express what they learned and their wildfire experiences last summer. At the suggestion of the Friends of the Kooskia Community Library and through support of other local libraries, these student poems will be on exhibit this summer. The Forest Service will be providing a bound copy of poems, organized by school groups, to community libraries.