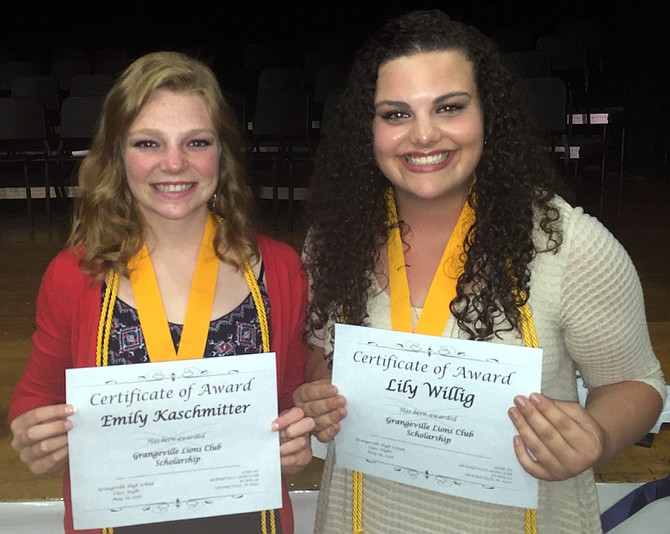 Lions Club
Emily Kaschmitter and Lily Willig received scholarships, $2,000 each, from the Grangeville Lions Club last Thursday night. The scholarships further each GHS grad's plans: Kaschmitter will attend UI to study biological engineering and chemistry and Willig will attend Carroll College to study biology, English and literature. For the Grangeville Lions Club, 2016 marks the first year the club has offered $2,000 scholarships. The club was able to boost its offering in light of the continuing success of its annual Christmas tree sale and other fund-raisers.
3 Rivers Amateur Radio Club
The club will participate in the ARRL Field Day at the Shaack farm near Clearwater. Field Day will be held from 11 a.m. on Saturday, June 25, to 11 a.m. on June 26. We are planning on having three radio stations powered by batteries charged by solar power running the entire 24 hours.
The Cascadia Rising exercise will take place June 7 - 10. It will involve disaster agencies in Oregon, Washington and Idaho. The scenario is a 9-plus earthquake hits off the Pacific Coast.
The next meeting will be June 14 at the meeting room at the Kamiah KOA (former Lewis and Clark Resort) on U.S. Highway 12, two miles east of Kamiah at 6:30 p.m. License examinations will be given at 5:30 p.m. Contact David Brainerd - 926-7886 for license test info. Contact Ken Tuning at
935-8888 for meeting and club information. The club website is at 3riversarc.com. The club repeater transmits on 146.620 MHz.
— David Brainerd
Boy Scout Troop 555
Boy Scout Troop 555 of Grangeville has its first Eagle Scouts. After almost 13 years of Cub and Boy scouts, Marcus Gravatt and Ben Lothspeich of Grangeville have both completed the requirements for the highest award in scouting, the rank of Eagle.
Both boys joined scouting together as Tiger Cubs almost 13 years ago. Gravatt worked on the military service flag project at the Grangeville Veterans Memorial Park. Lothspeich worked on the U.S. Flag retirement box where old or torn flags can be dropped off for formal retirement by the VFW, Elks or Boy Scouts. The box is looking for a permanent home but is currently at Gortsema Motors where flags can be dropped off at no charge.
The Eagle Court was held recently at the Elks Club and was hosted by Kevin Asker. Master of Ceremonies was Christine Reuter. Clyde Hanson, longtime scouting supporter and recipient of the Silver Beaver Award, made the official presentation. Stephanie Jordan gave the invocation and benediction. Scoutmaster Ty Reuter was presented with a limited edition Winchester knife and a plate of cookies for his work in getting the boys to this point.
Don Owens and Mark Gravatt were recognized for being mentors to the new Eagle Scouts.
Boy Scout Troop 555 is sponsored by the Grangeville Elks Club and meets in the basement of their building every Wednesday at 6 p.m.
Grangeville Senior Citizens
On June 3 at the Grangeville Senior Citizens Center, Stan Modrell led the pledge and Barbara Essen gave the prayer. Carol Asker won the free dinner drawing. The center served 65 meals. Home delivery served 40 hot and 70 frozen.
Menu for June 10: sweet and sour pork, rice, oriental vegetables, mandarin oranges.
Menu for June 13: oven-fried chicken, mashed potatoes and gravy, tossed veggie salad/balsamic vinegar, apricots.
Idaho County Democrats
Sunday, June 12, the Idaho County Democrats will be hosting their annual picnic and pie auction. Chicken, hamburgers and veggie burgers will be provided. Bring a dish to pass and a pie for the auction. Festivities begin at 1 p.m, at the Cottonwood City Park across from the fairgrounds.
Ron Beitelspacher will be the auctioneer, this year assisted by Jim Rehder and Sharon Jeffery. Delegates to the Idaho Democratic Convention in Boise, June 16- 19, will attend as well as Democrats from nearby counties. The public is invited.
Sunday, June 26, the group will gather to do the biannual cleanup of Highway 95 north of Grangeville, beginning just past Idaho Forest Group. Brunch will be held afterward.
On May 19 at the re-organization meeting, eight precinct captains were installed and elections were held to fill the party offices for the County and District 7. Primary outcomes were discussed and plans made for upcoming events; picnic and pie auction, newsletter mailing, Highway 95 cleanup, Idaho County Fair booth and Greencreek dinner. Members sang "Happy Birthday" to Denis Long and he left the meeting with a Samurai saying, "Survive, Endure, Prevail."
The next scheduled monthly meeting will be held at the Grangeville Senior Center on the Truck Route, Monday, July 11. Doors will open at 6 p.m., and the meeting to begin at 6:30 p.m.

Call Michelle Perdue at 983 3763, visit the Idaho County Democrats Facebook page or email m4perdue@yahoo.com.
PEO sisters attend conference
BOISE — The 101st Convention of the Idaho State Chapter of the P.E.O. Sisterhood met in Boise May 20-22. Representing the two Grangeville chapters were Chandra Eimers, Chapter AC; and Diane Balch (president) and Ellamae Holes, Chapter BV.
The P.E.O. Sisterhood is a philanthropic educational organization in which women celebrate the advancement of women.
Jessica Robinson of White Bird received supplemental funding for her college education from Chapter AC and a national grant for continuing education from Chapter BV. Liz Marek was awarded supplement funding from Chapter AC and a $1,000 nursing scholarship from Chapter BV, established by a former member who was a nurse. Chapter BV also awarded college scholarships to Ashley Bradley, O'Melodi Whiteman and Shaylynn Gutzman.

Founded in 1869, P.E.O. has nearly 6,000 chapters internationally and nearly 250,000 members worldwide. In Idaho there are 89 chapters with 3,646 members. Between March 1, 2015 and February 29, 2016, Idaho Chapter members contributed over $186,000 to celebrate the advancement of women through education.
Information about P.E.O. and its scholarship programs is online: peointernational.org.
Pioneer Senior Citizens
Agnes Forsman opened the May 31 meeting of the Pioneer Senior Citizens with the Pledge of Allegiance and also led the dinner prayer. Guests were Tyler Flowers, Chet and Bev Fergason and Lorraine Nuxoll.
There were 57 meals served with 13 home-delivered meals. Vera Schumacher won the free dinner.
Susie Frei McPherson and Eileen Hazelbaker split the nickel bingo pot and Amelia Frei won the blackout. Door prize winners were Gen Broker, Lorraine Nuxoll, Barb Rehder, Elred Nuxoll and Anna Gehring.
Come join us for a meal every Tuesday for a small donation at the Cottonwood Community Church basement. Meals are served at noon.
Menu for June 14, Flag Day: stuffed peppers, fresh veggies, blueberry muffins.