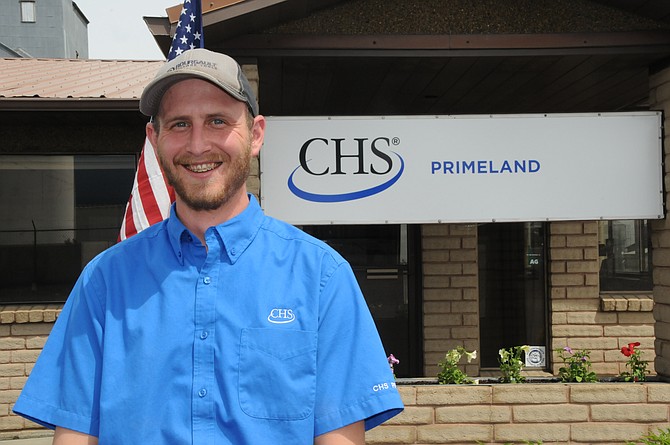 Photo by Lorie Palmer
Joel Wasem is the new South Prairie Location Manager at CHS Primeland. He is pictured here in front of the Grangeville office.
GRANGEVILLE — A decade ago, Joel Wasem would have never dreamed he'd be where he is today. But in retrospect, he's very glad he's here.
Wasem is the new South Prairie Location Manager at CHS Primeland. He oversees the field offices in Grangeville, Cottonwood, Fenn and Winona, the latter two of which are seasonal offices.
Wasem grew up on the family farm and graduated in 2007 from Prairie High School in Cottonwood.
"From there, well, I did a little bit of everything," he smiled.
He attended Lewis-Clark State College for auto body repair, farmed, crushed rock and even went on a seven-month stint to North Dakota and worked as a mechanic. It was while he was there he truly realized "there is no place like home."
"I figured out I definitely wanted to be back on the Camas Prairie," he said. "No amount of money is worth what some jobs are. I began to realize what was really important."
Five years ago, he applied at CHS Primeland and was hired as a custom tractor driver, applying custom fertilizer for customers.
For the past two years he has managed a crew and was able to slide into the management leadership role with "help from some great bosses."
"The former manager really helped me get prepared for this leadership role and I'm still learning," he said.
Wasem said his previous jobs all helped him learn what kind of boss he wants to be and how to treat — and not to treat — his employees.
"You have to be fair," he said.
Most of his learning has been hands-on, though he will be attending some classes in the off-seasons.
"It's a very time-demanding job," he said of running the co-op, "but I want to offer a high-end product and services to our customers."
Wasem and his wife, Jordan, who is a clerk for the City of Grangeville, have one daughter, 6-year-old Maylee, and are expecting a baby.
To contact Wasem call Primeland at 983-0210.