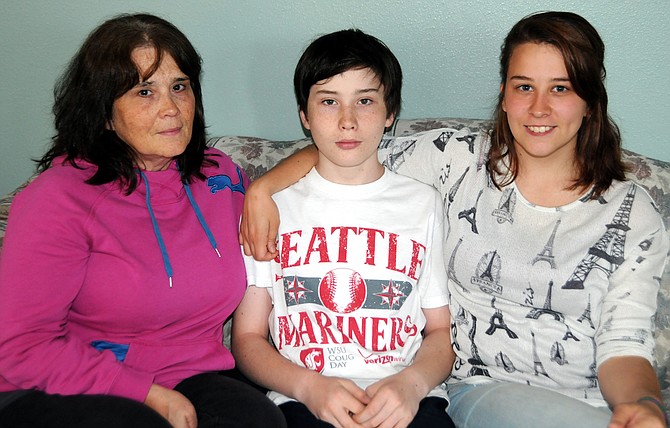 Photo by Lorie Palmer
(L-R) Peggy, Remington and Della Sprute said they thank the community for their overwhelming support during their loss. The family's home was destroyed in a fire in Cottonwood June 10.
GRANGEVILLE — June 10 will be forever etched in the minds of Peggy Blankenship Sprute and her two youngest children, Della and Remington.
The three were in their old Reservoir Road farmhouse in Cottonwood when, just before noon, the lights began to flicker.
"I thought it was just because of a storm," shrugged 17-year-old Della.
"I had been downstairs and went back up toward my room and then yelled, 'Mom! There's smoke!'" recalled 13-year-old Remington.
Before they had much time to think, the large house began to fill with thick, black smoke. Peggy ran out and threw off the breakers, though she wasn't sure what good it would do. She and the kids got outside but then began rescuing their family pets.
"The [two] dogs followed us out, but we had 4-week-old kittens whose mother had abandoned them, and then two other cats," she said.
In the end, they were able to remove the pets but nothing else.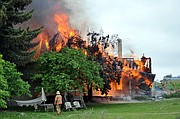 "A pregnant lady in a white Suburban drove by and stopped and was so calm and nice – I don't know who she is," Peggy said. The stranger called 911 and stuck around to comfort the Sprutes, who had relatives living nearby.
Although it only took nine minutes for the Cottonwood Volunteer Fire Department to arrive, Della said she felt like it was "the longest time in my life."
Help came from all over – family, neighbors, the Rad's water trucks and water usage from the Monastery of St. Gertrude – but, in the end, the house was a total loss.
"I don't think we really had time to think about what we were losing because it was so surreal," Peggy said. "Remington did say he lost all his dad's stuff and that was hard."
Della and Remington's dad, Colin Sprute, was killed in a rollover accident in February.
"It's been a rough year – and it's not even over," Della said.
The Sprutes are currently living with Peggy's mother in Grangeville but will soon move to a home in Greencreek owned by her cousin and family, Angela Vanderpas.
"I cannot stress enough how absolutely amazing people have been – family, friends, strangers, people I haven't talked to in years," Peggy said. "I hope people know how thankful I am, even if I may not have acted like it because I have been so overwhelmed."
Both Peggy and Della emphasized how professional and helpful Cottonwood Police Chief Terry Cochran was.
"He was the one who called the Red Cross and informed them about the fire," Peggy said.
"The Red Cross lady was there by that night and she was so nice and patient in explaining everything," Della added.
The family was given vouchers for various needs as well as some household items and blankets.
Peggy has been a bartender and waitress on the Camas Prairie for 30 years and knows a lot of people in the area. She is currently going into her senior year at Lewis-Clark State College where she is majoring in psychology and is employed by the international program there. She also spent three years in the Army.
"I have been completely overwhelmed by all the responses from everyone I know and don't know – the people I was in the Army with, the people at LCSC, many people in the county," she said. "They have donated to the GoFundMe account, given money, bought us groceries, brought clothes, beds, furniture, food and so much more."
Peggy admitted it has been difficult to accept all the help as she has always been "independent," she said.
"But we do truly appreciate it," she said.
Right now, the family is not dwelling on what they have lost – especially those personal items that are irreplaceable.
"My four older kids are out of the house but all their memento boxes were at the house and are gone now, so that's hard," she said. "But thinking about that too much can make you crazy."
Della's friends from Prairie High School held a taco feed last night to benefit the family and those who wish to donate also have the option to go to the GoFundMe account as well as accounts set up at Cottonwood Community Credit union and Umpqua Bank in Grangeville.
Peggy's insurance will pay the remaining mortgage on her home and will leave her with an acre plot of land and a pile of ashes.
"I am so thankful for that – no debt to pay on a home that doesn't exist," she said. "And we are also so grateful that our family –including our pets – is intact, as well as for everything everyone is doing for us and all the calls, messages and prayers."
"We are really grateful for everything," smiled Della.