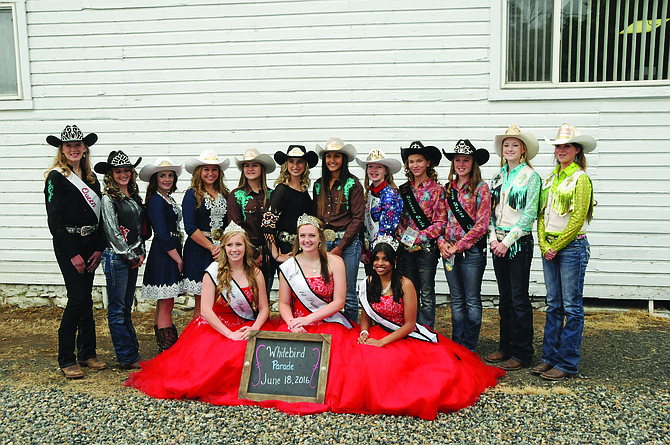 Photo by Lorie Palmer
The White Bird Royalty Luncheon drew 15 participants Saturday, June 18, with queen Bella Klapprich hosting the event.
Megan Sullivan on EOU dean's list
LA GRANDE, Ore. — Eastern Oregon University named 515 students to the dean's list for the 2016 spring term. Qualifying students achieve and maintain a grade point average of 3.5 or higher on a 4.0 scale while completing a minimum of 12 hours of graded coursework for the duration of the term.
Megan Sullivan, Grangeville High School graduate, is on the dean's list. She is the daughter of Pat Sullivan and Lisa Sullivan of Grangeville.
Burchak on OSU honor roll
CORVALLIS, Ore. —Names of students who have made the Scholastic Honor Roll Spring term have been announced by Oregon State University. A total of 1,017 students earned straight-A (4.0). Another 3,745 earned a B-plus (3.5) or better to make the listing. To be on the Honor Roll, students must carry at least 12 graded hours of course work.
Included is Grangeville High School graduate Conner J. Burchak, senior, mechanical engineering, who received a 3.5 or better.
Bingo on tap for this Friday, July 1, at Kamiah
KAMIAH — American Legion post No. 75 will host Bingo this Friday, July 1, 7:30 p.m., American Legion Hall, 618 Main Street, Kamiah.
Call Ron Funnemark at 935-0294.
VBS set at Stites Baptist Church July 11-14
STITES — Batten down the hatches and prepare to be "Submerged." The Stites Baptist Church will host a vacation Bible school for children age 4 through grade six July 11 to 14, 9 a.m. to noon.
Kids will begin their exploration each day on what lies below the surface in the deep sea by creating crafts, playing games, snacks, singing, and learning about missions. Kids will discover that Jesus saw people for who they were deep down, not who they appeared to be on the surface.
Call Pastor Dan Coburn at 962-2407.
Blood drive set for July 12
KAMIAH — An American Red Cross Blood Drive is set for Kamiah July 12, noon to 6 p.m., St. Catherine's Church, 407 7th Street.
Pumpkin growing contest under way
WHITE BIRD — Ready, set, grow! Area kids – it's not too late to start growing your pumpkin. And you may even win a prize.
All kids, no matter the age, are invited by the White Bird Area Recreation District to grow a pumpkin. When the plant is started and blooming, contact Brenda Heckman or Charlotte Sickels who will come and measure the plant, blooms and pumpkins and track progress through photos.
Final measurements will be taken Oct. 29.
Then, it's carving time. That's when everyone can get involved. Bring your pumpkin (or purchase one) to carve and decorate. This contest will be open to all ages. Cost to enter is a can of food for the local food bank. A collection box will be on-site. The event is planned for the IOOF Hall. Details will follow.
For questions call Brenda Heckman at 839-2303 or Charlotte Sickels 839-2653.
Gospel Lighthouse to have musical group at church
STITES — The Gospel Lighthouse Church in Stites will be host to a singing family group this Thursday, June 30, 6 p.m. Canada's Double Portion – a group with 10 children who all play instruments and sing – and the public is invited. Call 926-0082.
Harpster Fire Department to host open house, program
HARPSTER — Harpster Fire Department will host an open house and Fire Safe Prevention presentation Saturday, July 9, 9 a.m. to noon, at 113 Newsom Street. For details call Joe at 983-0930.
Roads open for access to personal use firewood
The Red River Ranger District recently opened roads to allow access for personal use firewood cutting. Multiple road systems are open: Forest Road 1110, also referred to as the Center Star Road; and the following spur roads off of the 1110 (9846, 9844, 9850 and 9845); the 9817 Road (Williams Ridge Road), the 1150 Road (Moose Butte) and the 1866 and 1867 (Silver Leggett roads). The designated area will be open until Aug. 25.  A personal use firewood permit is required and all conditions of the permit apply.
Permits and forest visitor maps are available at all forest office locations. Minimum permit cost is $20 for four cords or a maximum of 12 cords for $60. Several vendors in local communities also sell permits. The list of vendors are can be found on the website:  http://www.fs.usda.gov/main/nezperceclearwater/passes-permits/forestproducts.
Call Josh Bransford, Red River Ranger District in Elk City, 842-2245.
Veterans' services advocate in Grangeville on July 12
GRANGEVILLE – The Idaho Division of Veterans Services will have a veterans' advocate in Grangeville on Tuesday, July 12, at the Idaho Department of Labor office, 305 N. State Street, 9 a.m. to 3 p.m.
The advocate will be available to veterans and their dependents to answer questions about benefits, assist with ongoing claims, and take new claims for filing with the Veterans Administration.
Schedule an appointment by calling 750-3690. Walk-ins will only be seen as time allows.
Recycling sites to be closed Saturday, July 2, for holidays
Idaho County Recycling patrons are advised that all sites in Grangeville, Cottonwood and Kooskia will be closed Saturday, July 2, for volunteers to participate in holiday weekend activities.