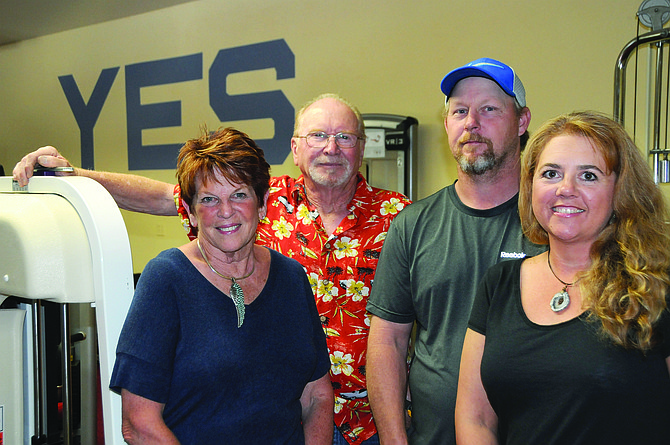 Photo by Lorie Palmer
Grangeville's Groaners' owners (L-R) Julie and Paul Hauger have sold their gym to The Gym owners Lance and Eve McColloch.
GRANGEVILLE — After a 16-year, post-retirement venture, Groaners Fitness will change hands.
Paul and Julie Hauger are turning the Groaners keys over to Lance and Eve McColloch, current owners of The Gym.
"I am so thankful Groaners – which I believe has played an important role in community health and wellness – will continue," Julie said.
Following Julie's retirement from the Forest Service, she and friend Beth Kerschner opened Groaners in the basement of the Elks in 2000. In 2005, they moved to Main Street. Julie and Paul eventually became the sole owners and their daughter managed the business for a time before she married and moved out of the area.
"I have been feeling as I am getting older it was maybe time to maybe give it up – but I wasn't sure how that looked," Julie said.
Just more than a month ago she found her answer as she and Eve began to visit.
Soon, plans were in the works for the McCollochs to purchase the business and add it to their existing fitness facilities and services offered through The Gym, located in the old Forest Service building at the opposite end of town.
"This is really a win-win situation," explained Lance. "Our current patrons will have the use of a 24-hour gym now, and Groaners' members will be able to utilize The Gym's services."
The McCollochs said they plan to leave the 24-hour-gym at Groaners and simply move all the classes to The Gym.
"This way we can expand what we offer and have all the classes in one place," explained Eve. Currently, about 30 classes are offered at The Gym, including PiYo, a variety of "Cize" classes, Zumba, cycling, strength training and senior fit.
Memberships will roll over and everything will be included except Zumba classes, which are instructed privately and not by The Gym staff.
"We invite everyone who has a membership at Groaners to stop in at The Gym and visit with us and make sure all their records are up to date," Lance said. "This will give us a chance to meet them and also to show them what is included at The Gym with their memberships."
The four owners said they have enjoyed working together on this business transaction and are all pleased with how both gyms can continue to serve the community.
The Gym, which opened in 2012, is a family business with the McColloch's two daughters-in-law employed there and Lance's sister starting there soon. In addition, two others are employed as well as several class instructors. In addition, a variety of businesses – including a day care, a smoothie bar and a hair salon – have space in the building.
Both Groaners and The Gym are monitored by special camera systems and can record the comings and goings of customers, making it safer for those who use the 24-hour gym.
Groaners will also continue to host Jennifer Poxleitner who does electrolysis. The McCollochs also have plans for the side of the building where the exercise classes were held.
"Dr. Loren Miller, a chiropractor, will be moving in there," Lance said. "Not only will he be a good fit, but it will also help us with the building expenses."
Julie said she will miss the business she has come to love, but will "forever be grateful for all the friends I have made through being here," she said.
Paul will continue with farming at Tolo Lake Farms – with the absence of such a big "honey-do" list in town — and Julie plans to play a little more golfing and traveling.
For details on The Gym, call 983-7504, or go to their Facebook Page or www.theidahogym.com.