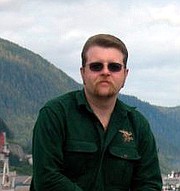 Dear Bwana, I recently got a little turned around while mushroom hunting up by Florence. I was finally able to get out to a road, but the experience has made the fear of being lost prominent in my mind. Do you have any suggestions on how I can be a little more safe in country I'm not familiar with? Thanks, Travis
Travis,
If you only knew how many times I fantasized this would befall my old chemistry teacher. Alas, it probably would have been my misfortune that he would have survived solely on pine cones until rescued, which I suspect, judging by his cantankerous attitude approximately a half hour following his morning cappuccino, were already a substantial portion of his diet! All joking aside though, you have touched on a critical outdoor subject and I would be glad to assist you.
Initially, you should never embark on a foray into the wilderness without telling someone where you are heading and what time you expect to be back. Common sense dictates that if you haven't returned at the aforementioned hour that someone will need to know the general locality to begin a search. Even if you don't have a family member readily available, tell a neighbor or, at very least, leave a note taped to your door stating your travel plans. This way, if you turn up missing, someone will eventually see the message and know where to start looking. An even more simplistic way to assure your rescue is to neglect to pay your taxes before your trip. Most likely, Uncle Sam will find you on his own without much prompting.
The next aspect of safe travel in the woods addresses how not to get lost in the first place. There exists a plethora of gadgets that will assist you in keeping your bearings in the wild. Something as simple as a compass can be lifesaving and modern technology has granted us global positioning systems that fit in the palm of our hand. The GPS is foolproof as long as you have batteries and studied the manner of its use. They are also inexpensive when you weigh the cost against the value of your life, so my suggestion is just get one.
By far the number one culprit in "lost" situations is inattentiveness. Let's take your mushroom hunting situation as an example: Most likely you were staring at the ground looking for a succulent morsel of a morel so intently that you didn't realize you had been walking for one or possibly several hours without paying attention to your direction of travel and surroundings. It is absolutely imperative that, while traveling the woods, you always keep a watchful eye for important landmarks in your route of travel. Creek bottoms, ridgelines, witness trees, rock slides, etc., will all need to be filed into your memory bank because, obviously, it's going to be necessary for you to return the same way you entered the woods. Paying close attention to landmarks is so important that I can't stress it enough!
Provisions are another key aspect to wilderness survival, so I'll touch on them quickly as well. Every aspiring wilderness explorer should carry a backpack containing a good knife, matches or lighter, water bottle, a couple snacks, extra jacket and of course, don't forget the GPS which should save your bacon before it even gets into the frying pan.
Inattentiveness may be the number one cause of losing your way, but the number one cause of death in the woods is panic. Folks find themselves in unfamiliar territory and immediately, instead of collecting their thoughts and assessing the situation, begin to worry and stop trusting their instincts. If there is just one thing you take away from this column, please realize, if you find yourself in this type of situation, your greatest and only ally will be your own mind. You cannot afford to lose it. The commonsense answers to your predicament are right there at your fingertips; you just have to be a cool enough customer to draw on them.  We all know the sun rises in the east and the North Star never moves, but the most simple way to be found in this general area is to start a fire and stay put. A good, smoky campfire will be your savior nine times out of 10. 
I do have one suggestion if you ever find yourself in a situation where a signal fire is needed and this is to become proficient in reading smoke before sending smoke signals. A cautionary tale which dates back to June of 1877 is rumored to live in the lore of Idaho County. A young Captain Perry, commander of a small company of cavalrymen stationed in Mt. Idaho, caught a glimpse of smoke rising above what is now White Bird one fateful afternoon. Captain Perry's initial impression of the smoke was a sign of retreat by the Nez Perce and immediately ordered the attack. What he didn't know was the curling plumes of smoke wafting from the soon-to-be battlefield meant little more than "blanket on fire" and thus commenced one of the most lopsided defeats in U.S. Cavalry history! The moral of the story is obviously, know your smoke.
Thanks for the question Travis and be safe out there!
Bwana
If you have any outdoor questions with an insatiable need to be answered, submit them to askbwana@gmail.com or visit Larry Hatter Worldwide Outdoor Author on Facebook