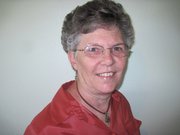 COTTONWOOD — The Bloodmobile will be at the Cottonwood Community Hall on March 15. Make plans to donate and help save lives. Call St. Mary's Hospital for an appointment at 962-3251.
St. Mary's Hospital will hold their annual Mardi Gras fund-raiser event on March 12 at the Cottonwood Community hall. Tickets are $35 each and are available at SMH or by calling Natalie Latimer at 962-2463. There is a limited number of tickets so get yours early! This year money raised will be spent on a new boiler system for the hospital. The evening will begin with a social hour at 5 p.m. followed by a dinner catered by Taste of Art, silent and live auctions, dancing and casino games. Dress for the event is dressy casual to semiformal.
Summit Academy and Prairie boys basketball teams are going to state this week. Congratulations to both teams! Good luck at state!
Lane Wassmuth won the all-school spelling bee for Summit Academy. Three of his cousins were among the competition: Erin Wassmuth, Makayla Rose and Thomas Rose. He will go to the next level of competition in Lewiston Saturday, March 5. Good luck to you, Lane. This is the second year in a row that one of my grandkids has won. They must have some of their grandma's spelling talent!
Trevor Loudon will be the speaker for the Lincoln Day Dinner at Greencreek on March 12. He is from Christchurch, New Zealand. He has been researching the radical left for more than 30 years. He has written two books "Barack Obama and the Enemies Within" and "The Enemies Within: Communists, Socialists and Progressives in the U.S. Congress." He is a good speaker and has an important message for us. Loudon has addressed more than 300 different groups in more than 30 states. Tickets for the evening are $45/couple, $25/single, and under 18 years, $15. Young people are encouraged to attend. Also attending will be Senator Crapo and Representative Labrador, District 7 legislators and county officials. There will be a social hour, dinner, bucket auction and 50/50 drawing. So come meet and greet your neighbors and friends for a fun and informative evening. For tickets contact Donna Wassmuth at 962-3561 by phone or e-mail dawnstar1018@gmail.com.