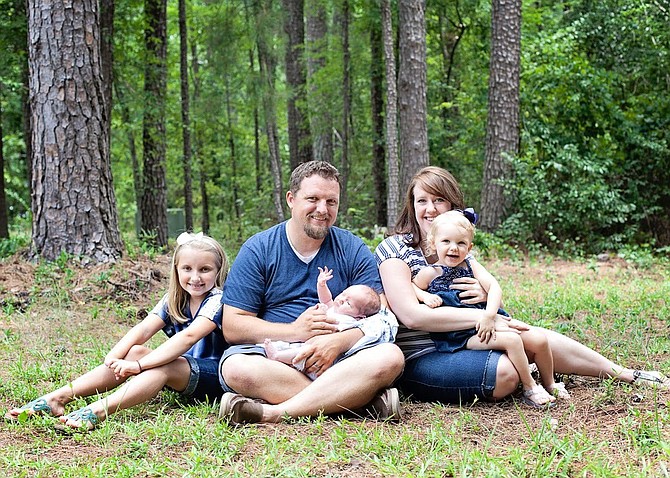 HARPSTER — ALACCA Bible Camp is moving a new direction with a new leader. But don't worry. The Christian camp is still Bible-based.
"That's the main thing that drew us here – the biblical similarities to our own beliefs," said Jeff Yant. He and his wife, Laura, are the new on-grounds camp executive directors.
Nestled in the woods along the Southfork of the Clearwater River at Harpster, ALACCA yearly provides camp opportunities for kids 8 and older as well as retreats for men, women and families, and various church groups.
Jeff was born in California and raised in Georgia while Laura was born in Kentucky and raised in South Carolina.
Jeff didn't grow up in a Christ-centered home, but friend and neighbors invited him to church.
"I was growing up in the Bible Belt and our town literally has a church on every corner," he smiled. He attended Baptist churches growing up, then later went on to study at Liberty University. His undergraduate degrees are in the fields of education and religion.
Laura grew up in a Christian home where her father enjoyed a puppet ministry. She is a teacher by trade with a masters in education.
As fate would have it, the couple met through a YWCA camp.
"Camp really gets in your blood – it's definitely a passion," he said.
After spending 10 years in youth ministry and in other jobs, the Yants researched ALACCA through the Christian Camp Conference of America.
"God started preparing our hearts several years before, getting us ready for this adventure, he said.
When it came down to the rubber meeting the road, the Yants prayed, talked to their families and sold their home in record time. They moved to Harpster in January.
"We're learning how to use a wood stove," Jeff laughed. "That's definitely something new for us." They are currently staying in a trailer home on the property but plan to live in either a larger structure that may be built on the land or a house off campus. Also living on the property is the camp cook.
The Yants have three children: Chloe, 11, lives with her mother in Georgia. She will visit during vacation and said she looks forward to being at ALACCA; Kaya is 3 and Cole is 20 months.
ALACCA History
The idea of ALACCA was founded by American Sunday School Union (ASSU) missionary "Sunday School" Johnson in 1958. For a decade the ASSU rented the old CCC Camp at O'Hara from the U.S. Forest Service. By 1966 the Forest Service was talking about tearing the camp down, thus a new summer camp was needed.
Mrs. Ida Ferguson of Harpster (whose grandchildren attended camp) donated 21.7 acres of riverfront property for the purpose of building a Christian camp. The first volunteer board consisted of Carroll Johnson, president; Keith Hemple, vice president; Jim Englund, secretary; Tom Schuster, treasurer; and Wes Baker.
The incorporation is under the ALACCA (A Lighthouse And Christ Centered Always) Bible Conference Association of Lewiston and involved more than 2,000 area people from 19 Sunday schools and churches working together with the ASSU to build the camp. Schuster set up a fund to receive faith promises of $1 per month from individuals to pay for the construction. The first item on the construction agenda was a bridge across the river, as at the time, the only existing structure was a swinging foot bridge. Following construction of the bridge was the building of the chapel, dining hall and six dormitories.
After much donated time and money, the camp opened in 1970 under the direction of another local ASSU missionary who served until 1976 when Don Matson took over. Tom and Jewell Colley served as camp directors from 1981 until their retirement in 2007.
In addition, ALACCA Bible Conference owns and operates three radio translators beaming the KMBI FM Moody Radio signal from Spokane to Lewiston, Orofino, and Kamiah, offering Christian radio to the region.
Jeff plans to help move the board and ALACCA to a more outcome-based model of ministry, "rather than simply relying on programming."
He starts with the question, "Why does ALACCA exist?"
"The answer is to glorify God and lead people to the Lord," he said.
Jeff explained ALACCA relies on volunteers – age high school through adult – and that ALACCA should be viewed as a mission filled experience.
"How many people hear about Jesus for the first time at camp, or make that first lasting commitment to Jesus Christ at camp?" he asked.
He hopes to change camps in a way that kids will still be exposed to a variety of activity opportunities, but also allowed to focus in on a specific area of interest.
"If a child falls in love with archery, let's use that," he said. "Let them focus on that and continue with our lessons. A person is more apt to hear a message if they are doing something they love."
Volunteers, Jeff said, may have the most difficult week or summer of their lives – but "also the most rewarding."
He hopes to entice church "work and witness" teams as well as college students, individuals and Christian organizations.
Everyone involved will undergo a background check, he said, as well as Darkness to Light sexual abuse training. In addition, other camp training sessions are completed.
As far as volunteer jobs – "There is something for everyone, at any time of year," he said.
ALACCA's now 27 acres and all of its cabins, dorms, chapels, food hall and homes must be maintained. There is also office work, newsletters and calling.
"Working with campers is huge, but there's so much more as well," he said.
He wants ALACCA to be a light within the Idaho County community in addition to being a place campers from other areas come into.
"We want to be available year-round for church board retreats, picnics, meetings and more," he said.
ALACCA is located at 101 China Garden Road, Harpster. Call 983-1188 or e-mail Jeff at alaccadirector@gmail.com. To learn more about upcoming camps log onto www.ALACCA.org.