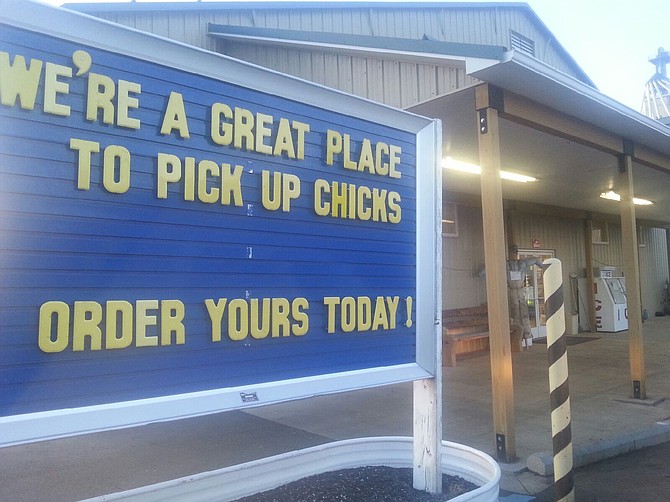 Photo by Lorie Palmer
It's nearing chick season and CHS Primeland's Country Store in Grangeville is advertising its wares. Patrons may also want to check out the scarecrow in front of the store that looks suspiciously like manager John Lamb. (Kits available for purchase!)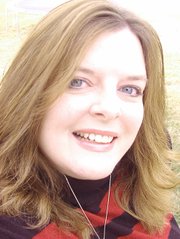 Cottonwood will host the Second Annual Purse Auction fund-raiser to help local victims of domestic violence and sexual assault through Grangeville's YMCA.
The event is set for this Saturday, March 5, at Cottonwood Community Hall, 501 King Street, with doors opening at 1 p.m. and the auction starting at 2:30 p.m., at $10 per plate for a potato bar with drink. Donate a new blanket for a free meal.
Donation items needed include purses, bags, backpacks, etc., either filled or empty. Also needed are gift certificates, cash or other auction items. Donations can be dropped off at: The Hangout in Cottonwood, Grangeville Flower Shop, Inland Cellular in Grangeville, YWCA offices in Grangeville and Kamiah, USDA Office in Nezperce, Cottonwood Community Credit Union in Craigmont and Riggins Whitewater Market.
Contact Kristy with the YWCA at 983-0888 or Debbie at The Hangout at 962-7383.
•
Grangeville's Umpqua Bank will host a Customer Appreciation Day this Friday, March 4, 10 a.m. to 3 p.m. The employees wanted to share their recent award as number one store (out of 330!) Manager Beryl Grant said the staff said, "It's because of our great customers!" So they want to share their good fortune by providing coffee and cake. Stop by and visit with them on Grangeville's Main Street on Friday.
•
Don't forget the Grangeville public survey will be coming out in the March mailing of the city's utility bills. All Grangeville residents and property owners are encouraged to fill out the form and return it to City Hall.

•
Grangeville Elementary Middle School (GEMS) and Sts. Peter and Paul 5th - 6th grade students attended a Tar Wars anti-nicotine program presented by Beth Monsebroten, FNP, at Syringa Hospital and Clinics. The lesson uses an interactive 45-minute session taught by volunteer family physicians about the short-term effects of tobacco use, cost of tobacco use, truth of tobacco advertising, and peer pressure.
•
Elk Creek Station in Elk City will open up at 5:30 a.m. Mondays, Wednesdays and Fridays for folks to get fuel, coffee, food for the trip over the mountain during the slide and detour. Thanks to Cheryl Sims for doing this!
•
Grangeville's Oscar's Restaurant will be back open this Thursday (March 3) evening. Winter hours will continue for now: Tuesday through Saturday, 11 a.m. to 8 p.m., closed Sundays and Mondays.
•
I had the chance to listen to Don Solberg, Solberg Agency in Grangeville, read to GEMS kindergarten and first-grade students Tuesday morning in honor of Dr. Seuss's birthday which is today, March 2. How fun. He had a great rapport with the students and let them know how much he loves to read – most recently reading a book about President Teddy Roosevelt. He also got some interesting responses from kids while reading, including "I sometimes puke on a roller coaster," and "I have two big dogs and they bit me on my ankle." Great conversations. Look for some video footage on www.idahocountyfreepress.com.
•
Hopefully a lot of you got out to hear the Grangeville High School music concert Feb. 29. The bands and choirs did a great job with music director Mrs. Kathy Stefani. Look for some videos on-line.
•
The Grangeville Chamber of Commerce Chili Cookoff is set for Saturday, March 12, 11 a.m. to 1 p.m. So far, Les Schwab, Asker's and Cash and Carry are participating, but you have until Thursday, March 3, to let Nancy Asker know if you are participating. Call her at 983-0583.