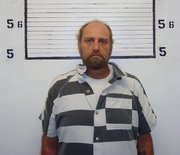 GRANGEVILLE — It took the jury nearly three hours to find Jason A. Godwin guilty of second-degree murder last Friday evening, Feb. 25, a determination following four days of testimony concerning the 2014 shooting death of Kyle A. Anderson.
Following the verdict, bond was revoked for Godwin, 50, of Kooskia, who will be kept in custody in the Idaho County Jail pending his sentencing hearing set for May 9.
Godwin was charged following the June 9, 2014, incident in which he shot Anderson, 41, in the neck with a .380 handgun outside his motor home off Toll Road northeast of Kooskia, reportedly over a firearm the victim was alleged to have stolen from him.
A second man alleged to have been in Godwin's vehicle at the time of the incident, Ernest Ruiz, III, 37, of Eugene, Ore., is charged with unlawful possession of a firearm by a felon. He is set for a March 28 hearing in the matter.
"There was no provocation, there was no quarrel," stated Idaho County Prosecutor Kirk MacGregor, in summarizing the case against Godwin, who he stated drove up to the motor home, and before the vehicle even stopped he had pointed the gun at Anderson, who at the time was installing a license plate. In an exchange that witnesses testified took from three to four seconds to more than a minute, Godwin yelled at Anderson concerning a matter of stolen guns and shot him one time.
In his closing statement, MacGregor spoke to the jury on making its decision concerning all the facts of the case. This included the circumstances leading up to the shooting, the consistent testimony of witnesses concerning the chain of events and that Anderson was not holding a gun at the time, as well as Godwin's actions afterwards. On this last, MacGregor said these were inconsistent with a person claiming he shot in self-defense – including after the shooting putting a gun to Anderson's girlfriend Amanda Jones' head and threatening to kill her, his not calling 911 to report the incident or call for medical assistance, and that he was planning to dump Anderson's body in the river.
•
"This was not a murder," stated Godwin's defense attorney, Mark Monson, nor a case of voluntary manslaughter. Godwin's actions were in self-defense against Anderson, who he stated was armed with a loaded and cocked .22 pistol aimed at him.
As supporting multiple areas of reasonable doubt in the case, Monson called into question conflicting witness testimony on what Jones – who has eyesight issues – stated she saw in the dark at the time of the shooting; and Ruiz "went from knowing everything to remembering nothing" in his testimony, possibly motivated by what he could gain as a result of this in his own criminal case. Testimony was Anderson held something in his hand at the time, which couldn't have been the screwdriver, Monson said, as an evidence photo showed it resting on the motor home's bumper. Monson also brought up Anderson was tested to have had meth in his system, consumed hours before the shooting, noting one of the drug's effects was aggressive behavior.
"For certain, Kyle Anderson was armed and Jason Godwin shot and killed him – the rest is still in a cloud," Monson said, "and ladies and gentlemen, that is reasonable doubt."
Following closing statements, jury dismissed at 3:27 p.m. last Friday and came back at 6:15 p.m. with a guilty verdict against Godwin for second degree murder. Trial started last Tuesday afternoon, Feb. 23, with final testimony ending that Friday.
•
MacGregor and deputy prosecutor Adam Green handled the case. Godwin was represented by attorneys Monson and D. Ray Barker, both of Moscow. District Judge Gregory FitzMaurice presided in the matter.