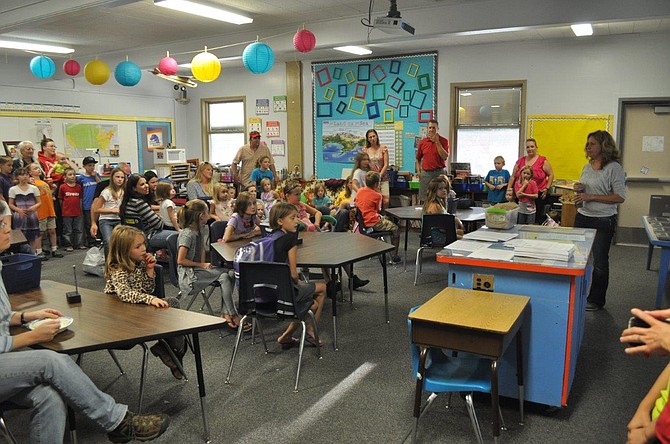 KOOSKIA — UPDATE, March 3: Clarification on this story: MVSD does not have a draft firearms policy of its own; it is simply looking at Garden Valley's policy as a place to start a dialogue on the issue. Patrons with questions or ideas are welcome to attend the next board meeting. – Lorie
---
"Anyone who thinks people aren't carrying guns into our schools right now is blind," said Mike Dominguez of Kooskia.
Dominguez, Mountain View School District board trustee for Zone 4, brought a draft firearms policy to the board at its last regular meeting, held at Kooskia's Clearwater Valley High School, Feb. 22. The discussion was brought up under new business.
"The board agreed to pursue the topic," Dominguez said. He has followed Garden Valley's firearm policy, he said, since they implemented it in 2013, and designed the draft policy for MVSD 244 after it.
Dominguez said he realizes there are people who "are nervous about the idea of teachers carrying firearms, but the main idea is to be safe and be able to protect our students," he said.
Dominguez sets forth an eight-page detailed plan that discusses, among other things, what would be necessary in order for a teacher to carry a firearm onto school property.
The documents reads, in part:
"All school personnel that carry firearms authorized by the school board and district shall undergo an extensive background check that includes fingerprinting and psychological screening by the trainer. The Mountain View School District shall bear the cost of these screenings.
Any school personnel hired by the Mountain View School District, that will be engaged in school security activities must qualify and be in possession of an enhanced concealed weapons permit (or a law enforcement equivalent or higher) prior to performing job duties that require him or her to carry a firearm while on school district property."
"Jim Gorges [Idaho County Undersheriff] attended the meeting and he said the Idaho County Sheriff's Office would provide the training at no cost," Dominguez explained.
"To me, a person who carries a firearm, it's about safety, protecting our loved ones and taking control of a situation," he said. "This is not something to be taken lightly. Lot Smith [board chair] and I have been to many conferences on this topic and have researched the pros and cons. I am convinced we need to act."
---
The draft proposal is available through the MVSD 244 district office. The firearm discussion will be placed on the agenda at upcoming meetings.
The next school board meeting is set for Monday, March 21, Grangeville, district office, 5:30 p.m.