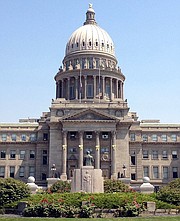 BOISE — The Senate State Affairs Committee late last month sent a bill to the 14th order for amendments that would codify the legality of Bible references in Idaho public schools.
Senate bill 1342, sponsored by District 7 Senator Sheryl Nuxoll (R), would spell out a right already legal in Idaho to reference the Bible in public schools. The bill would not require students to use religious texts for reference purposes if they or their parents objected.
"Everyone should have the right to believe what they want to believe," Senator Nuxoll said. "This is not mandating anything."
The bill passed the Senate Education Committee last month with opposition from Senator Janie Ward-Engelking (D), District 18, who questioned whether the bill would spark a need for other bills to be drafted that codify the legality of referencing other religious texts.
The bill includes a list of appropriate classes for the Bible to be referenced for the purpose of furthering study, including astronomy, geology, and biology -- a specificity Senator Todd Lakey (R), District 12, took issue with in the State Affairs Committee.
Senator Lakey proposed the bill be amended to strike the words "astronomy, geology, biology," saying the use of the Bible in those contexts could promote the teaching of creationism in class. Senator Nuxoll said she would be willing to strike the proposed language from the bill.
Kathy Griesmeyer, public policy strategist for the American Civil Liberties Union of Idaho, testified against the bill for similar reasons as Senator Lakey, saying the use of the Bible is best restricted to courses where teachers are presenting in context with other like pieces, such as comparative religion or literature classes.
"Creationism and the Bible have no place in public school science classes, and legislation that permits otherwise raises serious constitutional issues," Griesmeyer said.
Senator Nuxoll said she would be willing to strike the hard sciences from the bill.
Senator Bart Davis (R), District 33, and Senator Chuck Winder (R), District 20, were also hesitant to accept the bill as is.
Both asked Senator Nuxoll whether she would be willing to add the term "religious texts" to the legislation to ensure all religious texts, including the Bible, would be allowed as references in school.
The committee voted unanimously to send the bill to the 14th order for the recommended amendments.