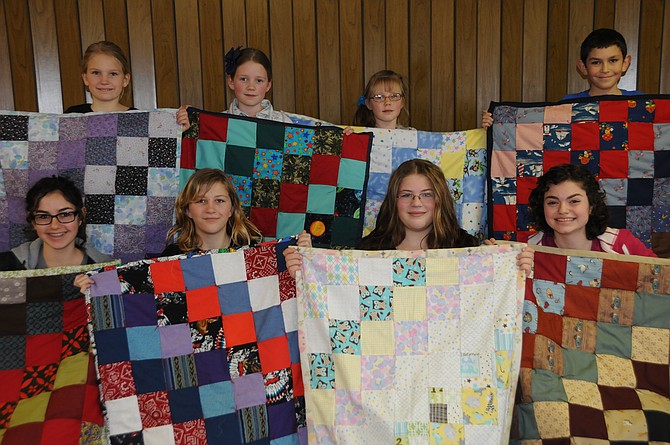 Photo by Lorie Palmer
Eight homeschooled students recently made quilts for the Ronald McDonald House. They are (top, L-R) Mari Schwartz, Kate Foster, Maggie Foster and Elijah Gulotta and (bottom, L-R) Michaela Gulotta, Hilde McGuigan, Mary McGuigan and Rachel Gulotta.
GRANGEVILLE — Thanks to some Grangeville area youth and adults, many children will be able to snuggle up with a homemade quilt.
Ruth Vrieling, with help from Marcia Orgish and Rachel Foster, recently finished up a sewing class for eight homeschool students. The result is a group of colorful, unique quilts that are being donated to the Ronald McDonald House in Spokane. The facility is host to families who have sick children in area hospitals.
Although Vrieling has been making quilts with friends and family at her church, Grangeville Christian Reformed, for 30 years, this is the first class of children she has taught.
"I might have been a little crazy," she laughed. "Not really. It's been a good experience and they have done a very nice job."
The group began in the fall and pieced together blocks that have been donated for years by church members. Vrieling was able to bring in sewing machines – her own, the other helper's and ones loaned – so each child had his or her own machine to use.
"This was the first sewing experience for several of the kids, so it really helped for each to have their own machine to use," she said. She also offered some one-on-one time at her home during the project.
Ladies from Vrieling's church helped the kids tie and back their quilts. The quilts were blessed at a service Sunday, March 6, and a pastor from Spokane will bring the items – which also included some made by ladies in the church – to the Ronald McDonald House.
Ten-year-old Elijah Gulotta was the only boy in the group and said he wasn't too excited to be doing the project at first.
"I told him he needed to learn to sew in case his britches needed mending one day," Vrieling laughed. "And what did he tell me?"
"I said, 'I'll just buy a new pair,'" Elijah smiled.
However, he did complete the project and ended up with a red and blue themed quilt.
"I rather enjoyed doing this," 10-year-old Mari Schwartz said as she tacked on a "Made By" tag to her quilt.
Mary McGuigan, 14, has already made several quilts, she said, but it was her sister Hilde's first. Hilde is 13.
Also making quilts were Michaela Gulotta, 16, Rachel Gulotta, 14, Kate Foster, 10, and Maggie Foster, 7.