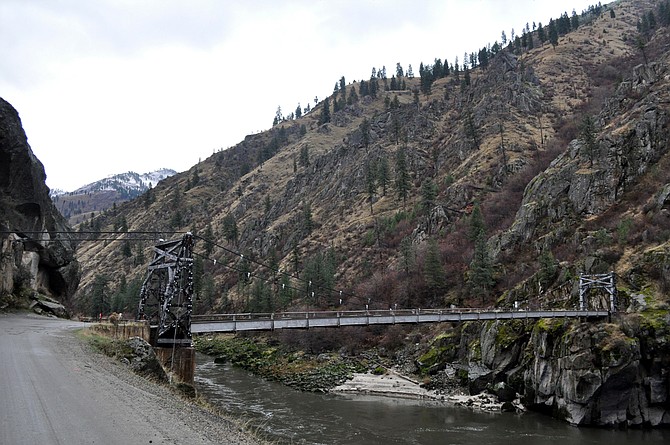 Photo by David Rauzi
The Manning Crevice Bridge; night closures related to the project started Monday, March 14.
RIGGINS — Night closures related to the Manning Crevice Bridge work were scheduled this week, March 14-18, as announced in the weekly project newsletter released last Thursday, March 10, online at flh.fhwa.dot.gov/projects/id/manning-crevice.
The contractor, RSCI, is mobilizing equipment to install minor reinforcement to the existing bridge's north tower, and construct a work platform and crane pad on the north side for the new bridge.
The typical schedule, all times MT, will keep the road and river open during the early morning (6-8 a.m.) and early evening (4-5 p.m.), with delays up to 30 minutes 8 a.m. to 4 p.m. and 5 p.m. to 10 p.m. Longer delays are possible overnight (10 p.m. to 6 a.m.), but the road is to be open 24 hours on weekends and holidays.
Plans call for the road to be open 24 hours during the upcoming Salmon River Jet Boat Races, Riggins Rodeo and Big Water Blowout. For each of these events, the road is to open at 4 p.m. the Friday before and return to the normal schedule at 6 a.m. the Monday after.