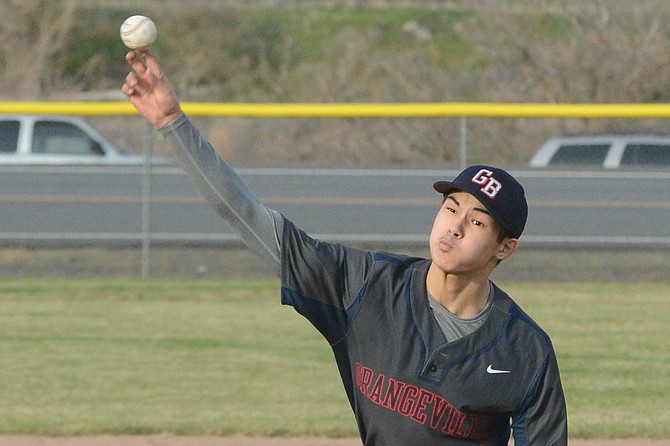 Photo by Andrew Ottoson
Grangeville's Chase Adkison unleashed this strike during the fourth inning of the Bulldogs' season opener last Friday, March 18, at the Asotin Tournament.
LEWISTON — Grangeville's baseball season opener was bumped from March 12 to last Friday, March 18, by wet weather and the Bulldogs' game showed a bit of rust.
GHS opened without regular catcher Jack Lawrence, who was out with an illness, and in his absence Colton pummelled the battery of Layton Harris and Chase Adkison.
The Wildcats knicked Harris for four runs in the third inning. Adkison relieved in the fourth, and the Wildcats scratched out three runs in the fourth — mainly on contact by Grant Kinzer.
Grangeville threatened in the first inning, with leadoff man Austin Parks lining out to Colton starter Carter Dahmen and Adkison grounding out before Harris singled up the middle for the first Bulldogs hit of the spring.
Harris advanced on a wild pitch and cleanup batter Dylan Canaday worked deep into the count before Dahmen walked him. Matt Ruhnke — who doubled in his next at bat — struck out.
Grangeville went 1-2-3 in the top of the second as Dahmen struck out two more Bulldogs, With the score still tied at zero, Parks drew a one-out walk in the third but was caught stealing.
Kinzer delivered the game's big hit — a two-run triple — in the bottom of the third.
The Bulldogs scored one run in two games on Saturday.
Up next, Grangeville (0-3) is to play on Friday, March 25, at Pomeroy.
CV tops Troy
KOOSKIA — Mitch Morrow had a couple of hits and scored a couple of runs as the Clearwater Valley boys picked up their second Whitepine League win of the season, 9-2 over Troy last Saturday, March 19.
Rams coach Josh Bradley called it "a good win and confidence booster."
Keiran Owens pitched all but the final out, which Cody Morrow provided with a strikeout at the end of a seven-pitch at bat.
Owens struck out 11 and drove in two runs with a single in support of his own cause.
Bradley highlighted Cody Morrow's play at shortstop "making several key put-outs" as well as Zack Krieger's play in left field.
CV led 3-0 before Troy scored, and when the Trojans broke through in the third, the Rams answered with one in the third, another in the fifth and a game-sealing four-spot in the sixth.
Up next for CV (4-0, 2-0 Whitepine League) is a March 24 road game at Potlatch — the first time this season the Rams will play away from home.
A March 22 contest against Prairie was rained out and no makeup date has been announced.