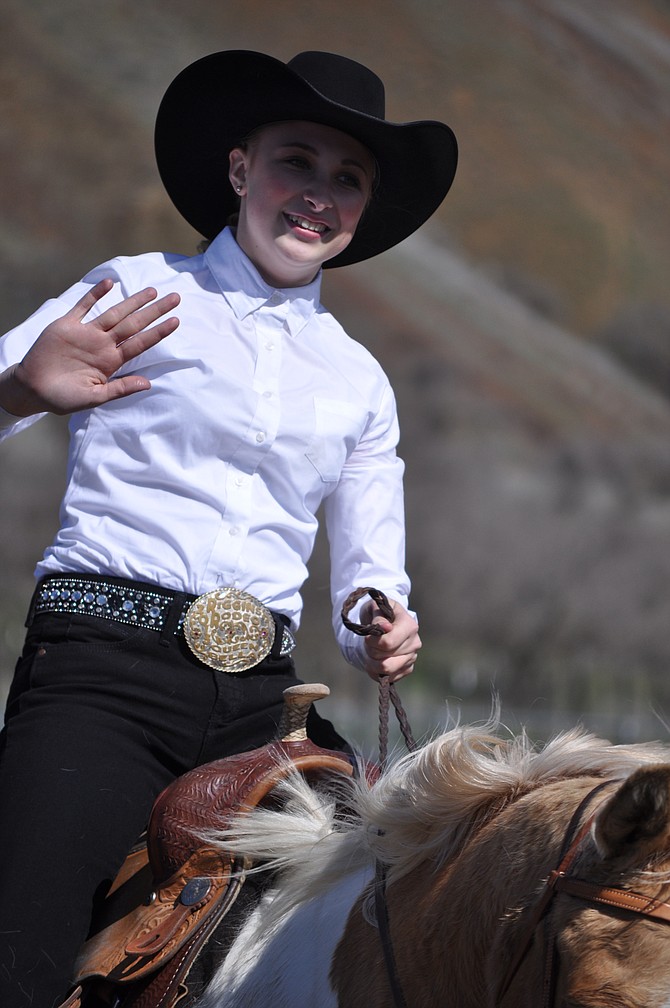 Photo by David Rauzi
Bella Klapprich is the 2016 White Bird Rodeo Queen.
WHITE BIRD — Grangeville High School freshman Bella Klapprich was chosen Saturday, March 19, as the 2016 White Bird Rodeo queen.
Klapprich, 15, along with Phoebe Rupp, 14, of Lucile, competed for the title in riding demonstration at the rodeo grounds at Twin Bridges, followed by an interview at the IOOF Hall in White Bird. The daughter of Bilejo and Melissa Klapprich, Bella will represent the 2016 White Bird Rodeo set Father's Day Weekend, June 17-18.
"The White Bird Rodeo has always held a special place in the hearts of my family," Klapprich wrote in her contestant information, with her family serving in various positions in helping run the annual event. She follows in a royal tradition as her mother was queen in 1996 and her aunt, Kami, in 1999. "I would love to carry on this family tradition and bring the next generation of cowboys and cowgirls to one of the best rodeos in Idaho."
Among her activities include Rough Riders 4-H, Grangeville Border Days Triple Bar Drill Team (including as queen in 2014), the 2015 Riggins Rodeo queen; participates in volleyball, basketball, concert choir and band, tap dance and riding horses, the last of which she notes is her passion.
"I love everything about it," Klapprich said, "and have a best friend in my horse. There is no better connection than that of you and your horse, and the both of us can never have too many shoes."
For event information: http://www.whitebirdrodeo.com .