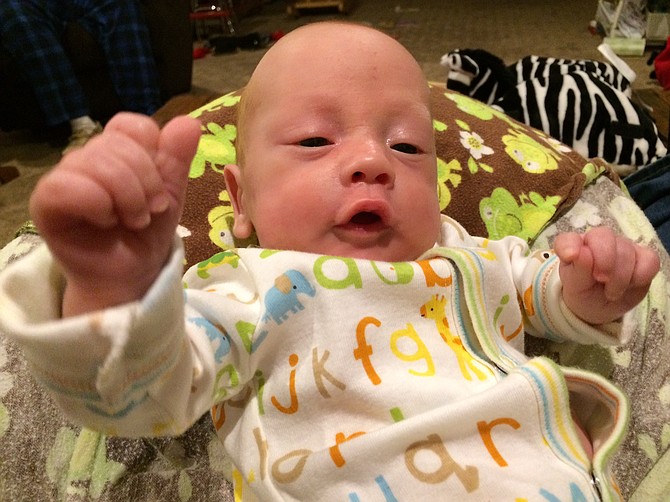 Amiah May Cornia
James Cornia and Debbie Webb of Grangeville are the parents of a daughter, Amiah May, born March 19, 2016, at St. Mary's Hospital in Cottonwood. She weighed eight pounds and 12 ounces and was 20 inches long.

Grandparents are Patrick Webb and Donna Webb of Grangeville, JR Cornia of Payette and Kristina Beckstead of Grangeville. Great-grandparents are Evelyn Dewitt of White Bird, Beverly and Perry Reams of Cottonwood, Florence and Hobert Webb of Grangeville, Marlin DeWitt of Grangeville, Jim Cornia and Cindy Cornia and Rita Cornia and Teresa Dewitt all of Riggins.
Oliver David Lustig
Don and Morna Lustig of Cottonwood are the parents of a son, Oliver David, born Dec. 29, 2015, at Sacred Heart Hospital in Spokane, Wash. He was born preterm at 30 weeks weighing only two pounds and 15 ounces and was 16 inches long. He was welcomed home on Feb. 22 where he joined siblings, Lillianne, 7; Henry, 7; Clara, 4; and James, 2.
Grandparents are Ed and Nancy Lustig and Eugene and JoAnn McHugh, all of Cottonwood. Great-grandmother is Teresa Uptmor of Keuterville.
The family thanks everyone who kept them in your prayers. He had a rough start, but due to all of your prayers, they got a miracle.
Decker Lee Myers
Tracey Bird and Matt Myers of Riggins are the parents of a son, Decker Lee, born March 22, 2016, at St. Mary's Hospital in Cottonwood. He weighed seven pounds and eight ounces and was 21 inches long. He joins a sister, Maggie, 4.
Grandparents are Mike and Becky Myers of Kooskia and Jerry and Kim Bird of Susanville, Calif. Great-grandparents are Helen Brink of Kamiah and Lee and Ray Vaughn Flerchinger of Clarkston, Wash.
More like this story