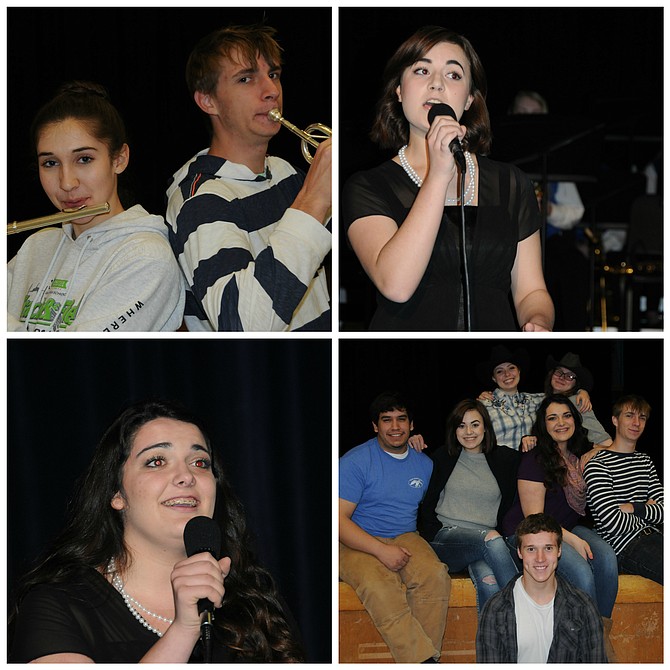 Photo by Lorie Palmer
(Top, L-R) Seniors Darby Finnegan will go to state competition on the flute while Dillon Alder will compete on the trumpet; (Top, right) Marissa Kennedy; (Bottom, left) Lauren Goldman; and (Bottom, right) Grangeville High School state vocalists are (top, L-R) Alexandria Perry and Cat Musick (alternate); (middle, L-R) Criekor Paris, Marissa Kennedy, Lauren Goldman (alternate), and Dillon Alder and (front) Adam Wonnacot (alternate).
MOSCOW — District II musicians were in strong force at the recent solo/ensemble festival in Moscow.
Several students will go on to the next level of state competition in April including Darby Finnegan on flute; Dillon Alder trumpet/bass; Marissa Kennedy, mezzo-soprano; Alexandria Perry, mezzo-soprano; and Criekor Paris, tenor (vocal). Alternates are vocalists Adam Wonnacot, Cat Musick and Lauren Goldman.
Also of note, Goldman received a Notable Performance Award at the Lionel Hampton Jazz Festival for outstanding alto in February.
"I am proud of our students and the time and effort they put into their performances," said music director and teacher Kathy Stefani. "I always say, these are already some of the busiest, most involved kids you will see in the school."
Results:
Grangeville High School and Grangeville Elementary Middle School students earning superior ratings were Julia Heath/Hailey Cass duet, Marissa Kennedy, mezzo-soprano, Darby Finnegan, flute, Alexandria Perry, mezzo-soprano, Dillon Alder, both trumpet and bass, Criekor Paris, tenor, Kara Sanders, flute, Naomi VanHouten, Taryn Godfrey, woodwind duet, Talia Brown, Cameran Green, Christa Bledsoe, Camden Barger woodwind quartet, Jakaili Norman, Kaylianna Shaw, Grace VanGuten clarinet trio.
Students earning an excellent rating were Alexandria Perry/Abby Gates, vocal duet, Anastasia Bearden/Shelby Wonnacot, vocal duet, Sophia Bush/Hailey Russell, vocal duet, Emily Kaschmitter/Jillian Hausladen, brass duet, Shauna Calhoun, soprano, Lauren Goldman, alto, Cat Musick, mezzo-soprano, Adam Wonnacot, tenor, Morgan Pilant, baritone, Mackenzie Cruson/Bella Klapprich, vocal duet, Rebecca Kaschmitter/Supitchaya Thanasamut, vocal duet, Emily Kaschmitter, euphonium, Kendra Draper, clarinet, Lexie Holcomb/Mindy Frederickson, vocal duet, Makayla Roberts/Megan Bashaw, alto sax duet, Emilio Barela, tenor, Megan Bashaw, alto sax solo, Mindy Frederickson, soprano solo, Lexie Holcomb, soprano solo, Zoe Lutz/Emma Edwards/Ally Williams ensemble, Miles Lefebvre/Caleb Frei/Isaac Dewey, ensemble, Kaylee Doughty/Ashlyn Bacon flute duet, Alyssa Prado, flute solo, Weston Arnzen/Harley VanHouten/Paige Layman bass ensemble, Naomi Connolley/Baeli Kinsley/Taylor Bransford, trio, Kaelyn Blackwell/Jordan Click/Sadie Keeler woodwind trio, Alecia Betancourt/Kylie Cervantes/Amanda Murphy woodwind trio, Emma Roach/Brittany Farmer, flute duet, Colby Canaday/ MaryKate Forsmann, tenor sax duet.
Student performers earning good rating were Marie Hauger/Kelsey Pilant, trumpet duet, Kenna Stokes/Danielle Uhlenkott/Hayden Hill trio, Kyle Frei/Trey Dreadfulwater/Dane Lindsley, trio, Caleb Barger/Wyatt Aiken/Badem Farmer, trio, Levi Stowell/Aiden Acton brass duet, and Brandon Vetter/Zach Theisen brass duet.