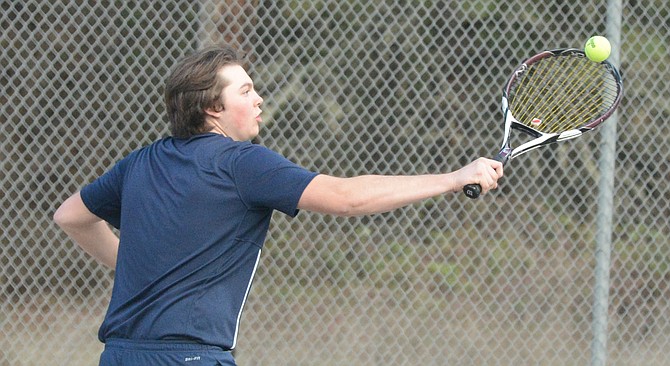 Photo by Andrew Ottoson
Grangeville competed at Clearwater Valley last Thursday, but action was halted when a storm moved in. Pictured, TJ Wiltse connects with a backhand shot during mixed doubles play.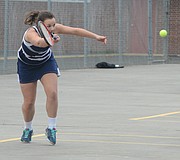 KOOSKIA — Grangeville's tennis squad followed up a strong outing March 17 at Orofino with a good showing in limited action last week at Clearwater Valley. The Bulldogs were rained out of a March 21 visit to Lewiston and were all but rained out against the Rams, when wet weather slickened the courts at CVHS and put a stop to four matches that were in progress early Thursday evening.
Before the storm moved in, Patrick Schumacher and Noah Vandomelan won in boys singles and Sophie Bush won in girls singles. CV's Kamm Mangun and Aaron Lahman won in boys doubles. CV won both matches in mixed doubles, with Shalynn Gutzman and Zach Baldwin prevailing over Lily Willig and Jon Asker, and with Krieger and Gorges over TJ Wiltse and Kortney Sims.
"Play was halted while four matches were in progress because of rain," GHS coach Kerry McCulley said. "The meet was canceled because the courts were too wet to resume play."
Grangeville and CV have both seen strong turnout this season, with a couple dozen athletes on each side.
Coming — Grangeville is slated to return to CV for a 4 p.m. meet April 5. Both squads are off this week for spring break.