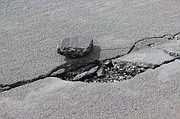 GRANGEVILLE — With a contract awarded and federal grant funds in place, work tentatively begins in June on the multimillion Idaho County Airport renovation project.
The estimated $4.020 million runway reconstruction portion of this two-phase project was originally to start last year. However, a delay in awarding a Federal Aviation Administration grant – the agency is funding 90 percent of the total cost – would have put construction late into the 2015 summer construction season, leading to a year's postponement by the Idaho County Commission.
Valley Paving of Cottonwood was awarded contract on both runway and taxiway reconstruction.
While funds are in place for the runway portion, FAA grant funds are not officially awarded on the taxiway work, which if that is not confirmed by early July this will set back this work to the 2017 construction season, according to airport manager Mike Cook.
As well, a delay is estimated to increase the taxiway cost from $1.290 million if constructed this year to $1.630 million in 2017.
"Hopefully we'll know on the grant for the taxiway by June 1," Cook said, "which will allow for construction of both the runway and taxiway by Valley Paving this year."
Estimated work time is 75 days for the runway and 55 days for the taxiway, with completion set by the end of October.
Surface deterioration and proximity issues are driving the project, of which the remaining costs will be covered by Idaho County (7 percent) and the Idaho Division of Aeronautics (3 percent). At 5,100 feet long and 75 feet wide, the runway will be reconstructed northeast of its present location to increase its separation from adjacent Day Road. Separation between the runway and taxiway, currently at 200 feet, needs to be expanded another 40 feet as per FAA standards. Also, an estimated 13,000 feet of drainage pipe will be installed to move water away from the runway, which presently is contributing to cracking and deterioration.
Runway reconstruction will shut down fixed-wing aircraft traffic at the airport for the duration of the project; helicopter traffic will be able to continue to operate out of the facility. As had been planned last year, firefighting aircraft normally stationed at the USFS Grangeville Air Center will be for the duration operating out of the Cottonwood and Lewiston airports.
Cook said the impact to the public traveling Airport Road should be almost negligible. Valley Paving, he said, is looking into options to minimize haul distances and other activities to reduce impacts to public roads.