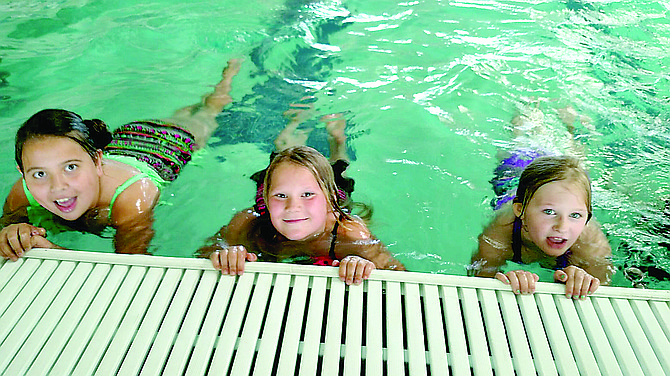 By Jeffery Swan
Special to the Idaho County Free Press
ASOTIN, Wash. — On Wednesday, April 27, the Clearwater Valley Elementary second and third graders were given the opportunity to travel to the Asotin County Aquatic Center for water safety training and swimming lessons.
"A grant through the Idaho Tourism - Wild River License Plates Fund allowed many CVES students who live near our beautiful rivers but might not have swimming and water safety knowledge an opportunity to learn valuable life-saving skills," said teacher Jeffrey Swan.
Before the students got into the pool, Carey Tolleson, a park ranger from the US Army Corps of Engineers, taught the students what to do if they see someone who has fallen into the water and is struggling. The students can now recall the four steps: Reach (use something to reach for them), Throw (throw something to help them out of the water), Row (get closer to them in a safe craft), Don't Go (if you are not trained to rescue someone in the water, get someone who can). Mr. Tolleson also brought water safety fun packets and Frisbees for each student as well as a DVD for each class that reinforces water safety topics.
On Tuesday, April 26th, Marty Smith, operator of Three Rivers Rafting, came to CVES and gave the students a water safety preview focused on river safety. He talked about the dangers of cold water, fast-moving water, getting trapped by rocks and logs and what to do if you do fall into the water. He also answered questions that the students had for him. He stressed the importance of always wearing a life jacket and how crucial it is to be ready for anything when you get into or near the river. Several students got the chance to try and throw a rescue rope bag while the other students watched and learned.
Jeffery Swan is a teacher at Clearwater Valley Elementary School in Kooskia