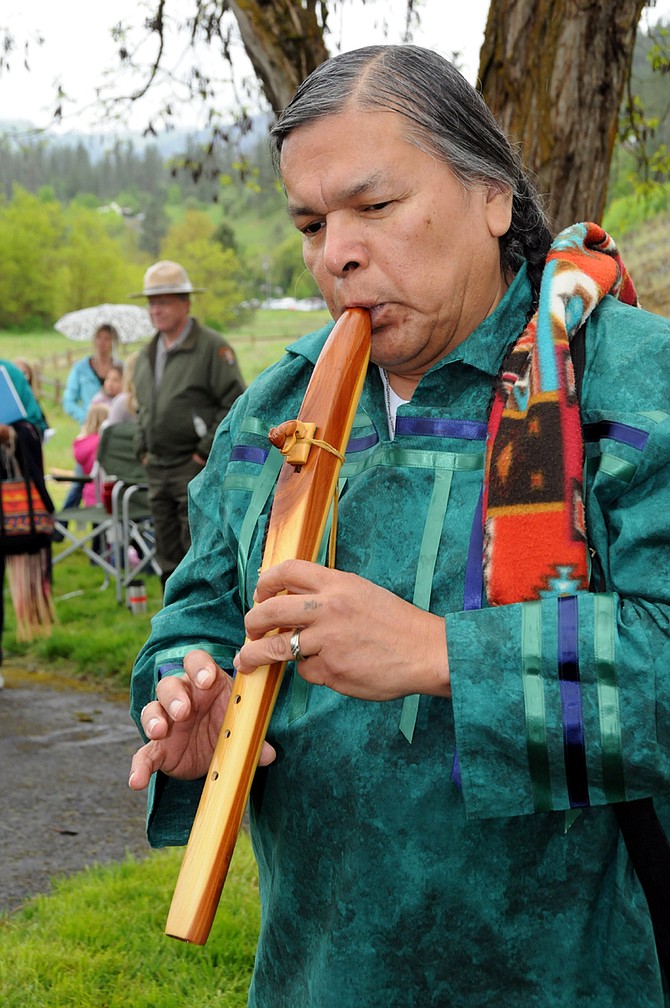 Photo by Lorie Palmer
James Wheeler, Sr., of Kamiah plays a flute he hand carved. He made his first flute when he was 12. He taught himself to both play and make the instruments. "I taught myself with some help," he smiled, pointing skyward. Wheeler played the flute pictured here as well as his first flute.
KAMIAH — "I walked here at Heart of the Monster with my grandkids last year and they had so many questions for me – creative, amazing curiosity," said Marcie Bailey of Kamiah. "I knew then I wanted to do something to help all kids better understand the history, the Nez Perce culture."
Bailey organized "Tim'neepkinix," translated to "From the Heart," a day of activities Friday, April 29 sponsored in part by the National Park Service, and held at Heart of the Monster on State Highway 12 in Kamiah.
"He washed his hands and made the water bloody, then with his bloody water, he threw drops over the land around him and said, you will be known as the Nimiipuu," speaks the recorded message at the site, telling the Heart of the Monster creation legend.
The day consisted of teepee storytelling featuring Nez Perce American Girl doll Kaya, cultural displays, a fun run, drumming, flute playing, arts and crafts, traditional food display, information on drug and alcohol abuse prevention, storytelling and a Nez Perce language demonstration.
"Always smell your food, trust your senses as you inhale that scent," said Janet BlackEagle of Kooskia who discussed teas, bitterroot, Camas root and other traditional Nimipuu foods and plants.
She told the school groups from Clearwater Valley and Kamiah schools the Nez Perce children were very strong and worked hard digging roots and helping provide for their families.
"They didn't drink pop or eat chips and candy," she grinned at the kids. "Remember to take care of yourselves and your bodies."
Jean Moose of Kamiah presented her beading skills to participants and she showed special umbilical cord containers sacred to the Nez Perce, as well as baby moccasins.
When asked if the beading process takes a long time, she recalled, "I stayed up all night one night after my niece had a stillborn baby," she said. "It was a lot of work but I wanted to make sure she crossed over wearing traditional beaded moccasins."
Kamiah fifth graders sang "Happy Birthday" in the Nez Perce language to Scott Eckberg, Idaho Unity manager for the National Park Service, Nez Perce National Historical Park our of Spalding.
Students in both Kooskia and Kamiah have the opportunity to study the language at school.
"This is wonderful, so rich in history and excitement for the kids," said Eckberg, who has worked with the park service for 36 years, 13 of it at Spalding.
Students were mesmerized as Lewis-Clark State College professor Harold Crook told and acted out a Nez Perce story and James Wheeler, senior, played a flute he carved by hand.
"This is what I envisioned and wanted for my grandkids," Bailey smiled. "This is what I wanted to give back to them. I hope we can do it each year."