Watchers for winged wildlife have many majestic species to choose from in North Central Idaho. Among the birds to be seen within the region is the osprey ("fish hawks" or "fish eagles"), and both private and public efforts have helped to encourage this population to thrive and co-exist among humanity's structures.
In Idaho, osprey populations are very robust, according to Idaho Department of Fish and Game, flourishing due to the region's clean water and fish. Osprey feed only on live fish, hunting from perches near water or while soaring. This predator is generally dark brown on the back and wings with white on the top of the head and extending from under the chin down the belly. They measure on average 21 to 26 inches with a wingspan of 58 to 72 inches.
Osprey migrate back to the Northwest each year to nest from early April through September. One to three chicks hatch in early June, and parents spend the summer months raising the young. Juvenile birds fledge in late July and must learn to fish on their own before migrating south with adults starting in September.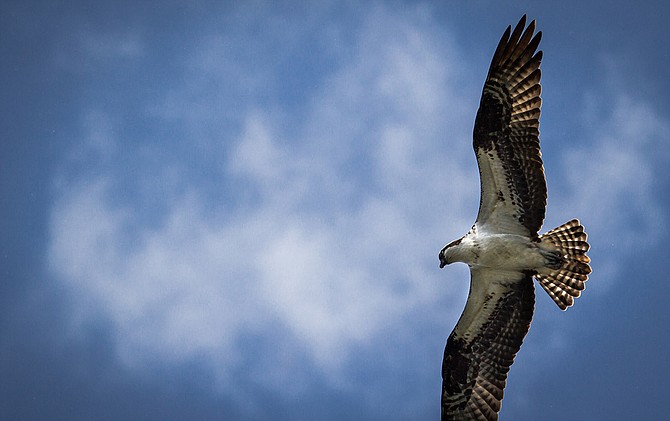 Osprey nests are bulky masses of limbs and debris built in the tops of dead trees or on rocky pinnacles near water; they also sometimes nest on artificial platforms or utility poles – anything that offers an unrestricted view.
Regionally, efforts have been made to enhance osprey habitat for nesting where it comes in conflict with utility poles or other man-made structures.
Along State Highway 13 between Stites and Kooskia in Idaho County, Avista Corporation has built alternative nesting platforms to prevent birds from nesting in wires or coming into contact with energized conductors.
The 1,500-foot-long Dent Bridge, which spans Dworshak Reservoir in Clearwater County, has four new aluminum platforms installed by the Idaho Transportation Department. This places nesting areas three feet above bridge towers, allowing inspectors to do their jobs without disturbing nests or having to remove the osprey's creations that can weigh at least 600 pounds.
Biologists may also be able to use some of the lessons learned from the osprey platforms to inform decisions in the future. As well, providing these nesting opportunities for the osprey may also allow biologists more opportunity to observe the bird's behavior.
Idaho Fish and Game Department has detailed listings of osprey and other bird watching areas on its website under "Idaho Birding Trail." Check the link at fishandgame.idaho.gov/.