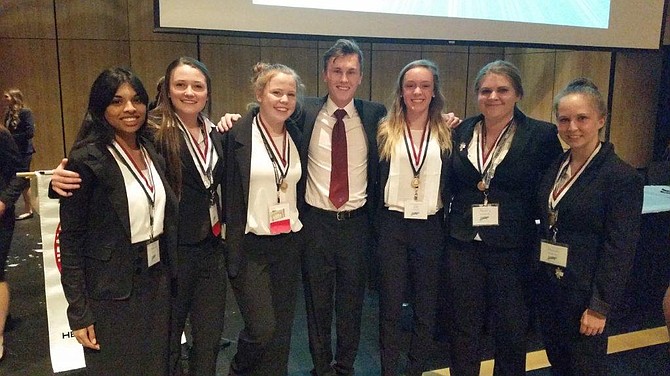 KAMIAH — Six Kamiah High School students who earned the right to compete at the International HOSA-Future Health Care Providers conference in Nashville, Tenn., this June are continuing local fund-raising efforts with the goal of raising more than $6,000 to cover conference expenses.
These students will staff a sales table at the 1A/2A regional track meet in Kamiah May 13-14 where they will sell T-shirts and conduct 50/50 raffles.

Additionally, donations can be made directly to the HOSA account at the Kamiah Community Credit Union, or through a Crowdrise funding page at https://www.crowdrise.com/kamiah-high-school-hosa-chapter—-international-competition.
Individuals wanting to track the students' activities can follow them at the Kamiah HOSA Nationals Facebook page.

At this time, ongoing fund-raising efforts include flocking yards with pink flamingos and selling coupon cards for the Pizza Factory.
Future fund-raisers include selling refreshments at the May 23 Mr. Kamiah "Dad Edition" contest, a May 30 car wash and baked food sale at Cloninger's, and a June 8 taco bar.
Kamiah High School students who earned the right to compete at the international conference include Godavari (Davi) Murphy and Lacey Kludt who received a silver medal for their health career display and presentation, and placed in 4th and 5th for prepared speeches about Kamiah's local HOSA chapter; and Chynna Wilcox, Zoe Wilcox, Marlee Engledow and Hailey Robinson who earned a bronze medal for their health education lesson. The Kamiah chapter's advisor is Terry Law.
The students have raised roughly $1,000 through donations, food sales, and a yard and baked food sale.