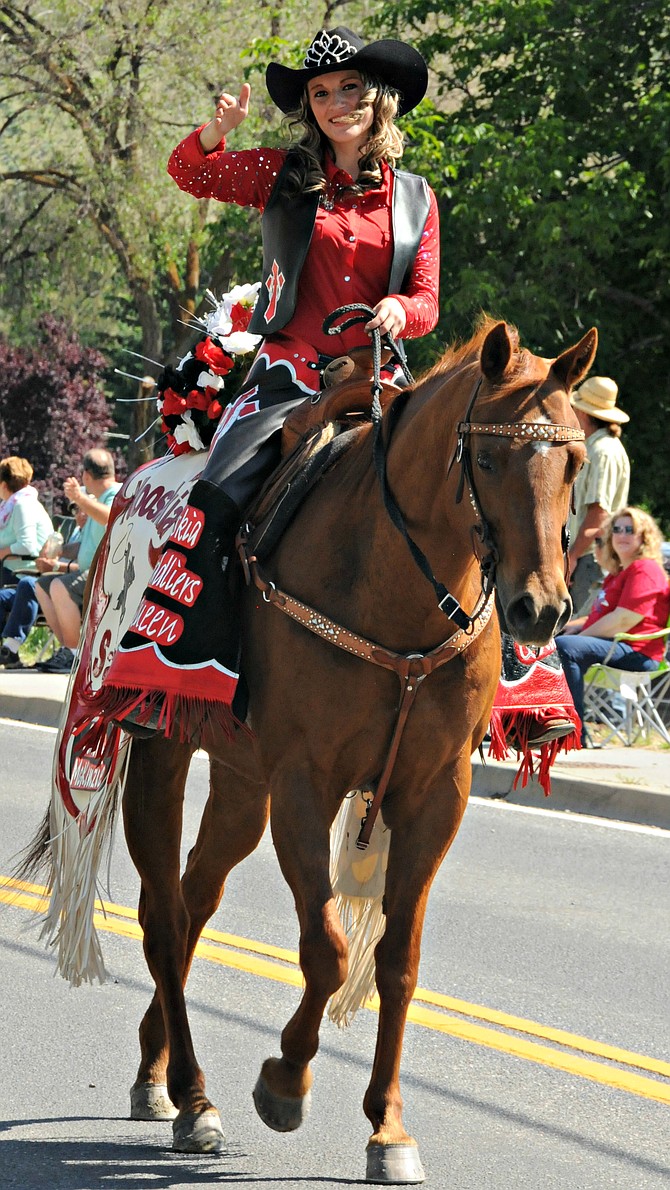 Photo by Lorie Palmer
Kooskia Saddliers Queen Mckenzie Cruson of Grangeville received the Judges' Royalty Choice award at the Riggins Rodeo Parade May 8.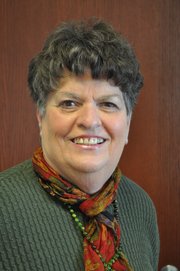 KOOSKIA / KAMIAH — This is the "Kick Off Saturday" for the Tahoe QRU yard sale at their facility at 786 Leitch Creek east of Kooskia that begins at 9 a.m. until 1 p.m. Bring down your tables, chairs and goodies for sale and join the fun. Space is free and lots of people attend. This event will take place the second Saturday of each month through October. See you there!
The Elk City Wagon Road will host a "Dessert At the Museum" on Saturday, May 14. Take the children to this event at the Clearwater Grange, lots of local information and a beautiful exhibit, and always good food.
Gold Trail Wranglers will hold an O-Mok-See. Everyone is invited to attend or participate. Check-in time is 1 p.m. with events starting at 1:30 p.m. Great family event and good training for your horse.
Kamiah Bible Academy will present a musical, "God is not Dead." KBA students helped to create the adapted drama with the help of the staff. First showing is Thursday, May 12, at 7 p.m. and Sunday, May 15, at 2 p.m. at their church located at 521 10th Street.
Kamiah Elementary Library will be giving away free books, if you are registering at the Kamiah Elementary School for kindergarten. Part of the Library's "Get a Jump Start on Reading at Your Library." The Community Library will hold a summer reading program for anyone interested. For information, call April at 935-0428.
This is Mental Health Awareness Month. Look at the members of our community who are mentally challenged or even physically for that matter. They still have much to give to all of us. At our shop, Clearwater Valley Co-op, we have several volunteers who are challenged in some way and not a nicer, friendly, or helpful group will you ever find. If you are in a position to help one of our "challenged" give it a try, they will surprise you at their dedication, humor and loyalty, just to name a few. If you are "challenged," and would like a chance to volunteer, give me a call and I may be able to put you in touch with someone who could use your help. There will be a lot of events this month to support this cause, sign up and take part.
Kamiah Community Partners Coalition (KCPC) will host a park cleanup on Thursday, May 12, at the Riverfront Park and Nature Trail at 5 p.m. Call 935-7647.
Kamiah Community Partners Coalition (KCPC), Pizza Factory and Kamiah Community Credit Union will host a game of donkey basketball on Sunday, May 15, 4 p.m. at the Kamiah Middle School. Four teams will participate in this entertaining event: Kamiah Community Members vs. Kooskia Community Members and Kamiah High School staff and seniors vs. Kooskia High School staff and seniors. Tickets can be purchased at Kamiah Flower Shop, Kamiah Community Credit Union and Umpqua Bank or by calling the KCPC office at 935-7647.
What's Happening: Clearwater Baptist Church located at 158 Main Street, in Clearwater, will hold their regular luncheon on Wednesday, May 18. Great food, warm hospitality and great talk. All ages are invited to attend and if you would like information or menu for the week call 926-7776.
Schedule your mammogram at the Kamiah Clinic 935-2585. Mammograms are by appointment and are done on the second Wednesday of each month. Recycle on Saturday at the facility across the bridge near where the old pole yard was, 10 a.m. until noon. We mentioned that Tahoe QRU will have free Tai Chi classes at their 786 Leitch Creek facility on Saturday mornings beginning at 9 a.m. If you're interested, call Fran at 926-7077 or Dolores at 926-4908, or just show up. These are beginning classes for seniors and it will help with balance and general health. If you know or make news, give me a call.