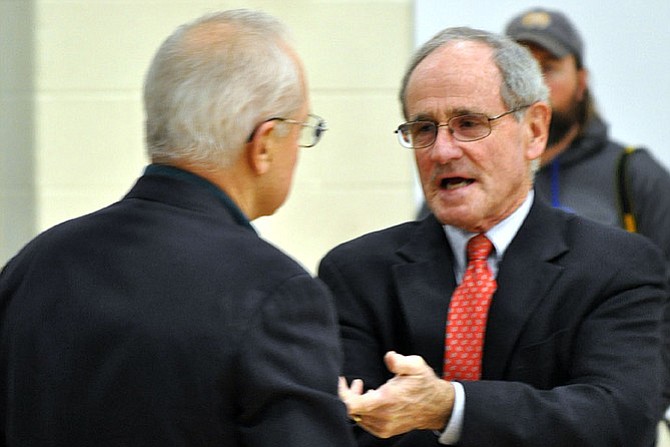 Photo by David Rauzi
Senator Jim Risch (right) talks with an unidentified man prior to the Nov. 24 public meeting on the Lochsa land exchange.
GRANGEVILLE — In a letter to Forest Service Chief Tom Tidwell dated May 12, U.S. Senator Jim Risch formally ended his pursuit of a legislated end to one long, controversial saga: the Lochsa Land Exchange.
Ray Anderson, who has for years played a leadership role in the local organized opposition to the land exchange, said he was "relieved to hear it."
"The letter says 97 percent of what they heard was in opposition," Anderson said. "That's what I had always thought they would find."
Citing the depth of opposition he heard from constituents at a meeting last November in Grangeville, Risch wrote that "I am unable to pursue a legislative solution at this time" while also noting that "the matter is not settled."
"I will continue to respect the county commissioners' position that the tax base not be eroded by an exchange which results in less private property in Idaho County," he noted. "I understand considering only land in Idaho County will make a solution difficult to attain, but I respect the county commissioners' deep-seated conviction that the tax base must be protected and given their legal and moral responsibility in that regard, all involved should likewise respect that position."
Risch's letter dates the land exchange to 2005, when Western Pacific Timber and the Forest Service joined a formative agreement to start an administrative process. The process became controversial in Idaho County in 2011. Among the milestones, Risch noted:
In 2010, the Forest Service completed a draft environmental impact statement that framed the issue in terms of five alternatives, none of which would have met the county's concern for its tax base.
In 2011, the Forest Service began to analyze the Idaho County plan, an alternative that would require an act of Congress, but which would maintain the county tax base.
In 2012, three members of Idaho's Congressional delegation jointly requested a Forest Service appraisal of the federal timberland involved in the trade, as well as a valuation of "proposed deed restrictions that would prohibit development and subdividing of the proposed acres for exchange."
In 2014, Western Pacific Timber presented a draft bill to Risch, Sen. Mike Crapo and Rep. Raul Labrador.
On November 24, 2015, Risch held a public meeting in Grangeville "to hear from stakeholders and Idahoans specifically on this issue."
The letter describes the outcome of that meeting: "Grangeville is just east of the proposed land exchange and where many of my constituents who deeply care about this issue reside. ... In all, we heard from 40 public speakers and know there were many others who wanted to speak if we had the time. ... I also asked the attendeees to submit written comments. ... We found that 97 percent of those who contacted my office opposed the Lochsa Land Exchange proposal."
Risch's letter describes a "problematic" ownership pattern in the Upper Lochsa: "the checkerboard pattern of ownership is not the proper way to manage and a challenging enterprise at best. That said, the USFS land is public land and the owners' views, particularly those living closest to the land, should be considered."
"My staff and I have spent hundreds of hours on this issue, taking input from many, many sources," Risch wrote. "We have kept an open mind while listening to the arguments pro and con on each side. There are, of course, legitimate arguments on both sides. As a result the decision is one of weighing the advantages and disadvantages to all concerned. It is a matter of balancing. After all we have received and analyzed and subjected to the weighing and balance tests, I am unable to conclude that a movement from the current status quo at this time is warranted. I will not be introducing any legislation to adopt any currently existing proposals to accomplish an exchange in the Lochsa River drainage."
Risch held out the possibility that someone -- "successors or others who deal with this issue later" -- may yet pursue a legislative trade.
"Indeed, conditions will change," he wrote. "The downside of managing the lands as a checker-boarded operation rather than as a consolidated operation will undoubtedly get worse. Pressure to make a change will not go away but will build. I am told that the private land owners are already looking at different proposals than the current one they are proposing. Although I do not know the details, only generalities, it does not sound as if they would reach the critical mass of support these kinds of proposals need to go forward. But it does indicate the matter is not settled."
Risch praised the Idaho County Commissioners for "good faith, credibility and understanding."
"The conclusion of this matter at this time does not solve the concern the commissioners continue to have that in some manner the private lands in question will end up in federal ownership or some other exempt status thereby eroding Idaho County's tax base. It is the most perplexing part of this issue and the solution thereto remains elusive," he wrote. "A critical mass of consensus is essential to resolving this issue. That does not exist now and is not even close at this time. Until substantial consensus can be achieved, a legislated exchange is not an option I can pursue."
(Further details will be in print on Wednesday.)