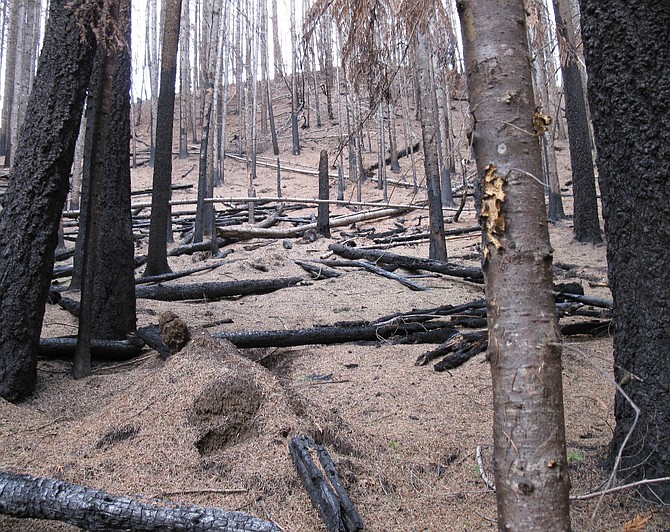 U.S. Forest Service
The Forest Service included this photo with its Johnson Bar Fire Salvage project decision. It portrays conditions the fire left behind in an area where the Forest Service had been developing projects to "improve the species, structural and age class diversity of forested ecosystems" even before the fire burned.
Late Thursday, May 12, a federal court ordered a preliminary injunction in the civil case over the Forest Service's Johnson Bar Fire Salvage project. The order stops salvage logging near the Selway and Middle Fork Clearwater Wild and Scenic rivers, which was set to begin as early as Monday, May 16.
Had it gone as planned, the Johnson Bar Fire Salvage Project would have reaped approximately 34 million board feet of timber from 2,104 acres of Nez Perce-Clearwater National Forests in parts roughly east of Lowell.
Idaho Rivers United and Friends of the Clearwater argued that the Forest Service "violated its duties to protect the Selway and Middle Fork Clearwater rivers under the Wild and Scenic Rivers Act, and also failed to fully evaluate cumulative environmental impacts along with other private and state land logging and 2015 fires in the same area," the groups noted in a joint news release.
US Magistrate Judge Candy W. Dale concluded the environmentalists "met their burden" on three claims in their complaint, meaning that even though the injunction is "preliminary" it is likely to become permanent after the matter is fully argued.
"We are reviewing the Court's decision on the preliminary injunction, and will move forward accordingly," Nez Perce-Clearwater National Forests supervisor Cheryl Probert said. "Projects such as this are important for many reasons including public safety, post fire restoration, resource protection and contributing to the economics of our communities."
Dale sided with the environmentalists against the Forest Service on points arising from the Wild and Scenic Rivers Act and the National Environmental Policy Act (NEPA), specifically:
That the Forest Service did not take a "hard look" at whether the 2015 Wash and Slide wildfires raised new issues in the area hit by the 2014 Johnson Bar Fire.
That the Forest Service did not document its analysis of what effect the salvage logging would have in the "viewshed" in an objective way.
That the Forest Service did not consider landslide, mass erosion and sedimentation risks in light of nearby post-fire harvests on state and private land.
That the Forest Service can't effectively analyze whether a project in fact conflicts with Wild and Scenic values without first adopting a river plan that "delineates objective standards."
"The Selway and Middle Fork Clearwater rivers are among the crown jewels of our nation's river systems, as Congress recognized back in 1968 when it protected them as the first rivers under the Wild and Scenic Rivers Act," said IRU Conservation Director Kevin Lewis. "This is an important court ruling enforcing Congressional direction that these are to be protected for present and future generations."
In March, the Idaho County Commission had declared its concern that "delay resulting in the loss of another field season [would] significantly increase the cost of reforestation and other restoration activities and potentially result in the abandonment of the project if timber deteriorates to the point where it is not economically viable to commercially harvest."
"It's disappointing overreach," Idaho County Commissioner Skip Brandt said. "It's a judge saying communities don't matter in comparison to the Wild and Scenic values, that it's OK for sediment to flow into the river if it's all natural. What we have is a damaged forest that has a lot of fiber in it that needs to be taken out of there, or else it will be kindling for the next fire, for the next summer of smoke. We need to revamp how federal lands are managed, period. NEPA was passed with good intentions, but that law is being abused."