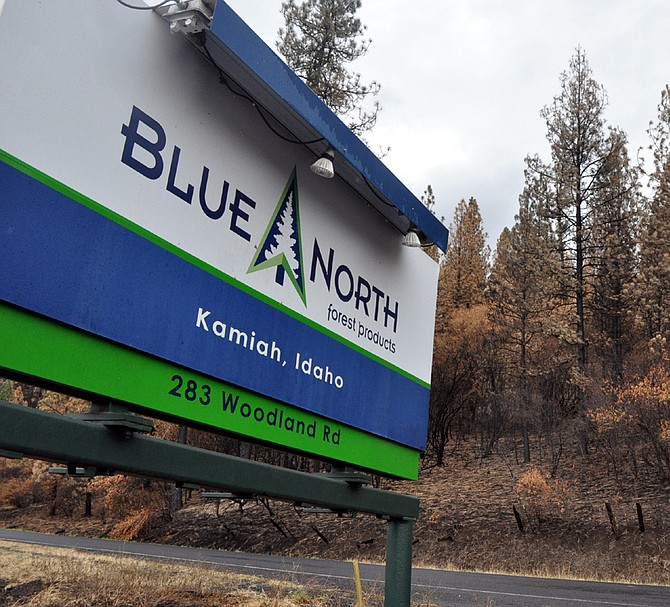 Photo by David Rauzi
Blue North Forest Products at Kamiah.
KAMIAH — Faced with having to close the Kamiah mill, in October 2015, Blue North Forest Products approached Idaho Forest Group about buying out its assets and timber position, Blue North operating manager Bill Mulligan confirmed to the Free Press Monday morning, May 16. IFG is in the process of completing the buyout, subject to "various closing conditions" IFG now anticipates will be met later this month.
"In order to remain competitive, we needed capital improvements and enough timber to go to a full two-shift operation," Mulligan said. "In spite of Forest Service efforts to do more, this has not been possible. It also has been exacerbated by lawsuits like the ones filed on two recent fire salvage sales and Clearwater Basin Collaborative projects like Clear Creek."
News regarding one such lawsuit broke last week, with a federal court holding up the Johnson Bar Fire Salvage project, with an injunction that will stop logging near the Wild and Scenic Middle Fork Clearwater and Selway rivers while the case is being argued. (See related story on this page.)
Blue North Forest Products workers will have the option to pursue work at Idaho Forest Group facilities in Grangeville, Lewiston and the northern parts of the state, even as Blue North sets about opening up retraining and education opportunities through the Department of Labor.
"We need to support increasing loggers in the woods to increase the timber availability pie for everyone," IFG governmental affairs vice president Bob Boeh said. Boeh described IFG's move in Kamiah as part of a long-term strategy to protect and increase timber availability throughout the areas where IFG operates its mills.
IFG's work with Idaho's Congressional delegation has keyed on five points, which Boeh outlined:
Funding reform, to treating catastrophic wildfires as natural disasters like hurricanes or tornadoes.
Regulatory reform, to speed up conflict resolution by using a process similar to how Major League Baseball handles arbitration.
Working with the Idaho Department of Lands and the Forest Service to implement the "Good Neighbor Authority" in the Farm Bill, which would speed up land management efforts on up to 1.7 million acres of "at risk lands" identified by the Secretary of Agriculture and Gov. Butch Otter, with the goals of reducing fire risk and improving forest health.
Participating in collaborative efforts in order to minimize lawsuits. Boeh called the collaborative efforts "a slow, time-consuming process but currently the sharpest tool in the tool box."
Working with the Western Governors Association to support bipartisan efforts in Congress on all of the above.
Along with the above, in a written release Sunday night, May 15, IFG noted one other big factor in the Kamiah mill's downfall: the expiration of a trade agreement that has helped protect U.S. producers.
The American timber industry – through the U.S. Lumber Coalition – has long regarded the present state of competition from Canada as "unfair."
"About half of Canadian lumber production is shipped to the U.S. market, accounting for approximately one third of U.S. total consumption," according to the coalition. "Left unchecked, Canadian trade practices would yield ever increasing market share for Canadian product, displacing U.S. producers, workers, and landowners, or even allowing Canadian mills to take over U.S. assets."
The countries reached a trade agreement in 2006, which expired last fall – and since then, U.S. producers have faced what the Canadians have called "free trade" over American producers' objections that the timber produced north of the border is unfairly subsidized.