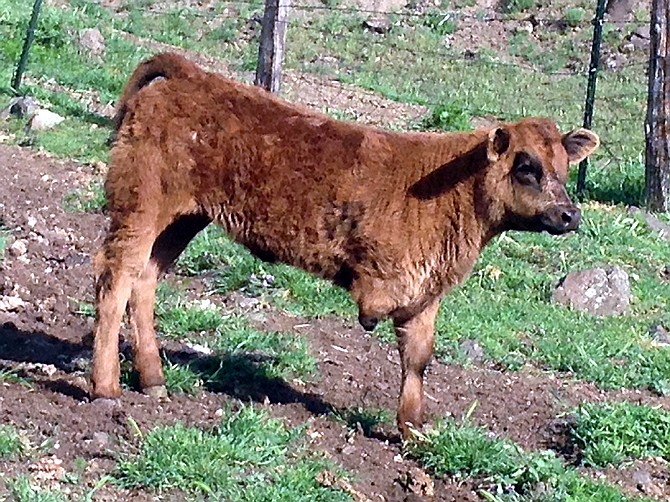 Doug Boggan
This calving season, Riggins rancher, Doug Boggan, had a deformed calf born. Bluetongue could possibly be the cause.
"Certain livestock/wildlife interaction can be a problem, most wildlife interactions are not," said Roy Kinner, senior conservation officer for Idaho Fish and Game.
Unfortunately, disease transmission from wildlife to livestock and vice versa does occur. This creates a challenging animal health issue for livestock owners, animal health authorities, and wildlife conservationists.
Most ranchers have stringent vaccination programs in place to protect their livestock, giving several vaccination shots guarding against strains of Pasteurella and clostridia, vibriosis, leptospirosis, Brucella abortus, and trichomoniasis just to name a few.
"In Idaho, a few diseases stand out as problematic," said Dr. Kim Heezen, DVM at Ferdinand Veterinary Clinic.
In 2015, whitetail deer died in masses around Idaho County from an outbreak of bluetongue disease.
Heezen said, "Bluetongue and its cousin EHD (epizootic hemorrhagic disease) are caused by related viruses carried by biting insects, primarily Culicoides midges. Large numbers of deer tend to die both from EHD and bluetongue."
"In very dry years, deer, sheep and cattle tend to cluster around water holes, allowing the biting midges to quickly pass the virus around." Heezen continued, "Sheep are the most susceptible to bluetongue, followed by cattle."
"Older cattle in areas where bluetongue occurs sporadically tend to be immune, but young stock and young, pregnant cattle tend to have the most problems," said Heezen. "Young cows early in their pregnancy can deliver calves with misshapen limbs and brain defects. Ewes infected early in pregnancy can also deliver lambs with deformed limbs."
This calving season, Riggins rancher, Doug Boggan, had a deformed calf born.
"This calf is on a 2-year-old heifer and is one of the biggest calves," said Boggan.
"Something like this happens in about 1 in every 10,000," Boggan continued, "Bluetongue could possibly be the cause, or it could just be an oops!"
This winter, an over-abundance of turkeys in his feed yard caused concern to Carl Crabtree. This Grangeville rancher lost several head of bulls and bull calves, taking a big financial hit to his registered beef cattle operation.
Three turkey hens were sent to the Fish and Game Wildlife Health Laboratory in Nampa for testing and blood samples were taken from another 10 birds.
"So far, there is no evidence to suggest that turkey feces are spreading anything to livestock," Kinner said.
Both ranchers called on Ferdinand veterinarian, Virgil Frei, who submitted lab samples to Washington Animal Disease Diagnostic Laboratory in Pullman, Wash.
The State of Idaho has a mandatory Brucellosis vaccination requirement and is currently a Brucella-free state.
Heezen said, "Brucella abortus, also known as Brucellosis, is probably one of the most common diseases that can be spread between wildlife and domestic cattle."
"All female cattle between 4 and 12 months of age in the state of Idaho are required to be vaccinated for Brucella," said Heezen.
"Idaho is also considered to be tuberculosis free, but the same bison and elk that can carry Brucella can also carry TB," shared Heezen. "In northern Idaho, elk, white-tailed and mule deer can transmit the disease to domestic cattle, pigs, and goats. Sheep and horses have a natural resistance to TB."
"Another disease, Pasturella pneumonia bacteria between domestic sheep and bighorn sheep, is a major reason for the elimination of sheep grazing rights in Idaho national forests and other grazing areas," Heezen said.
The Idaho State Department of Agriculture Animal Health Division is responsible for regulatory animal disease control and prevention programs through the inspection and investigation of livestock and livestock facilities, and the regulation of movement of animals in intrastate, interstate, and international commerce.
Additionally, international markets have ranchers fearing beef imports will expose their cattle to a dangerous disease known as foot and mouth.
"A rancher doesn't know if he is just having bad luck, or if there really is something else going on," said Crabtree.
---
by Shelley Neal, Lucile, garrett.neal@verizon.net