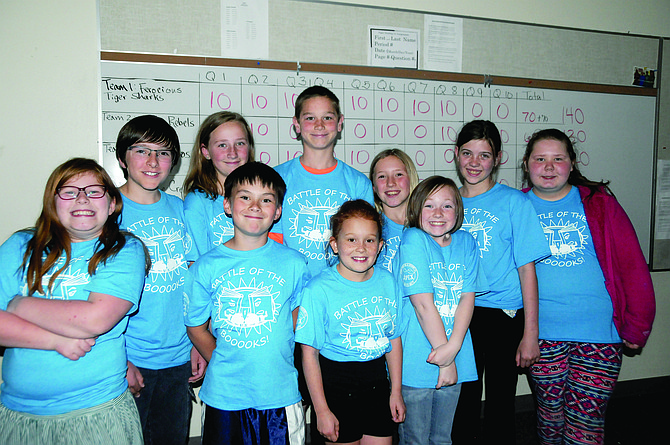 Photo by Lorie Palmer
Grangeville Elementary Middle School Battle of the Books winners — who went 10 rounds in the final contest — are shown against their scoreboard. They are (front, L-R) Maggie Kohrman, Reese Pollan, Tesslynn Beeson and Sydney Roach and (back, L-R) Toby Stoner, Alyson Schiess, Thomas Kaschmitter, Tabitha Stoner, Sydney Newson and Abbigail Sandoval.
GRANGEVILLE — Fourth and fifth graders battled it out at Grangeville Elementary Middle School in May. It wasn't a typical battle but a battle of wits and skill … it was the "Battle of the Books."
"We have been very excited to be able to offer this program this year, thanks to a grant from Grangeville Community Foundation," said GEMS Principal Dr. Susan Anderson.
The $750 award in 2015 helped the school purchase 20 books for the literary event. Battle of the Books is a voluntary reading incentive program designed to encourage students to read quality literature.
Students competed in teams by answering random detailed questions relating to the 20-book list. Books this year included a variety of works such as Shiloh, The Tales of Despereaux, Indian in the Cupboard, Boy of the Painted Cave, A Crooked Kind of Perfect, Runaway Ralph, The Mixed Up Files of Mrs. Basil E. Frankweiler and The Lion, The Witch and the Wardrobe.
After several rounds, the final five teams competed for the championship which ended in a tie between two teams. Student winners were Maggie Kohrman, Toby Stoner, Alyson Schiess, Reese Pollan, Thomas Kaschmitter, Tesslynn Beeson, Tabitha Stoner, Sydney Roach, Savannah Newson and Abbigail Sandoval.
For next year, the school plans to add another five books to the list.