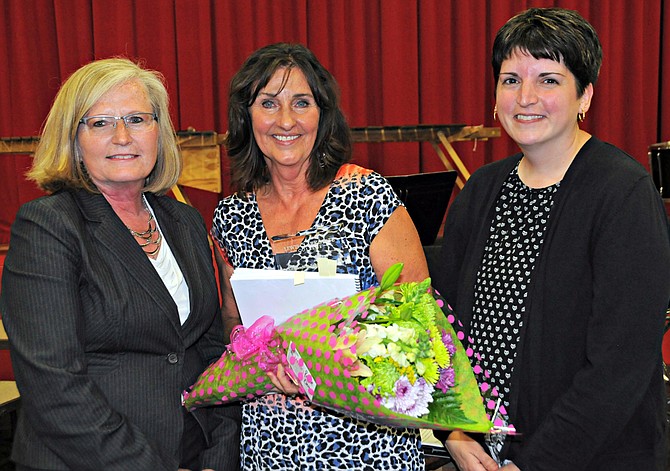 Photo by Lorie Palmer
Prairie Elementary Middle School paraprofessional Marlene Forsmann is seen here (center) with (L-R) PES superintendent Rene Forsmann and Heather Van Mullem, chair of the Education and Kinesiology Division at Lewis-Clark State College.
COTTONWOOD — A Prairie Elementary School paraprofessional was beyond surprised when she was honored Wednesday, May 18, with the spring 2016 Lewis-Clark State College Division of Education and Kinesiology's Outstanding Educator Award.
"Thank you so much," said a tearful Marlene Forsmann as she was surprised with the award at the end of the PES school concert last week.
Forsmann was presented the award by Heather Van Mullem, chair of the Education and Kinesiology Division, and Cottonwood Joint School District 242 superintendent and PES principal Rene Forsmann.
"Marlene has been working in our district for 26 years," read a joint statement from the first grade teachers whose students wrote the nomination letters. "She has dedicated her talents and skills to helping children learn and, specifically, for guiding and teaching them in reading. Marlene is an amazing support to the children and the staff she works with. She has the ability to know exactly what a child needs to support their journey in learning to read. We rely heavily on her, knowing that our students will receive the absolute best help they could ever receive."
One comment from a first-grade student read: "Mrs. Forsmann is so nice to us. I don't know what makes her so nice."
First-grade teacher Cindy Schumacher emphasized that "though she may not have a teaching certificate, Marlene is a highly qualified part of our staff."
Nominations for LCSC's Outstanding Educator Award are not limited to teachers and paraprofessionals, but may also include administrators, aides, secretaries, custodians, food service employees and playground monitors. Only nominations by P-12 students are accepted. A committee of three practicing teachers and two members of the Teacher Education Program choose the winner from submitted nominations.
•
For information about the program contact Van Mullem at hivanmullem@lcsc.edu or 792-2781.