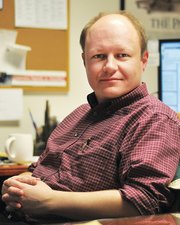 "The life of the dead is set in the memory of the living."
In honoring the dead during Memorial Day, civilians rely upon the memories of surviving veterans. Those who served and returned home are best equipped to give voice to the stories and experiences of those who died in conflict. Veterans' organizations provide more than just a place for mutual support and understanding for this community; they serve as a force for public awareness about the role of the military and the essential part it plays in maintaining our nation's freedoms and security.
Public commemorations such as Memorial Day, Veterans Day and Flag Day give veterans those opportunities to remind adults about what we may have taken for granted in our ease and complacency, and to instill in a new generation the essential values of service and duty to our nation.
But while we honor the dead this weekend, our ongoing efforts should be to support the living.
Veterans need unified public support in their continued struggles with a government that is quick to drop dollars on bullets but stingy and lethargic when it comes to taking care of those men and women who return home with the visible – and not so visible – scars of their service.
Many veterans in Idaho County can tell you of their frustrations in dealing with a federal bureaucracy that begrudges them care for physical and mental health problems. That complaint is nationwide, as are the overall issues with veterans suffering with homelessness and unemployment. We're bogged down with trivial matters about transgender bathrooms while veterans wait on dwindling hopes the promises their government made to them will be fulfilled prior to receiving their final benefit: a headstone and grave plot.
Let's use the excuse of an election year to put veterans' concerns among our top issues for candidates; let them know this is a priority and that it will be an ongoing standard of their performance. Our presence at a graveside ceremony is good to perpetuate what this commemoration stands for, but the greater is our continued perseverance that our nation honor its obligations to the living.